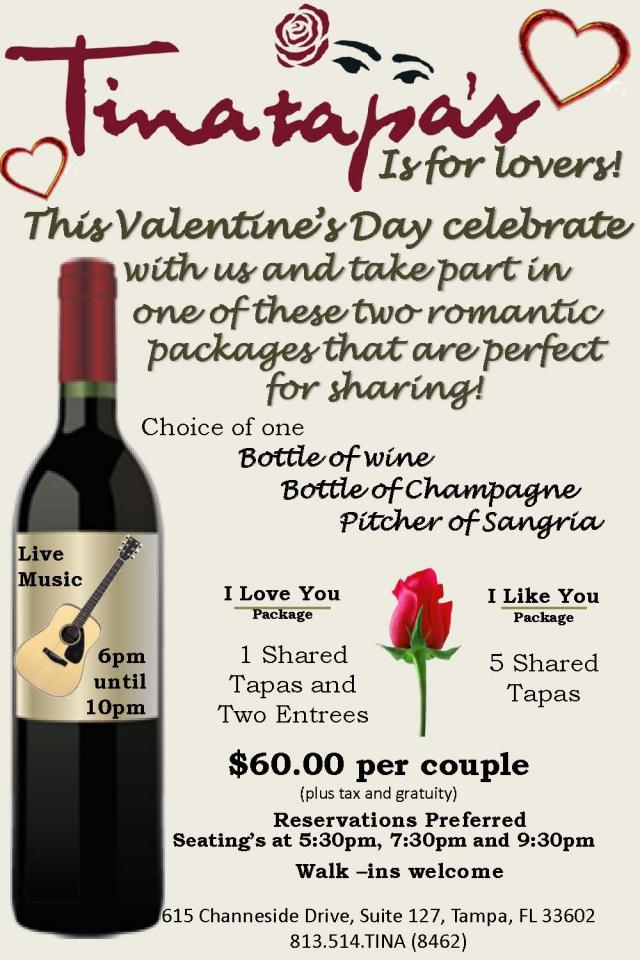 This one goes out to all the lovers out there! Well folks January seems to have flown by and we are now fresh into the month of February!
That means that Valentine's Day is right around the corner, and you don't want to get caught being a procrastinator do you!
Our fine friends over at
Tinatapa's
are offering up a pretty sweet deal for lovers on Valentine's Day!
This Valentine's Day celebrate with us and take part in one of these two romantic packages that are perfect for sharing!
I Love You Package - 1 Shared Tapas and Two Entrees
I Like You Package - 5 Shared Tapas
Choice of one: $60.00 per couple (plus tax and gratuity)
Seating's at 5:30pm, 7:30pm and 9:30pm, so and reservations are indeed preferred! I also may have heard through the Grapevine that we will be doing a giveaway of some sorts next week where you could have a chance to win the awesome above package!
That's all for now, but be sure to stay tuned in for more news on Valentine's Day related Tampa Bay Dining!