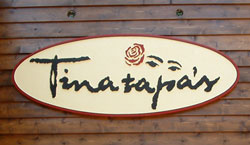 Hello there fans and Valentine's Day dinner seekers alike! As promised, we are back for round 2 of our
Tinatapas
giveaway!
If you weren't paying attention yesterday, first of all... shame on you as you should be checking this blog daily for cool updates on things to do in Tampa Bay and Tampa Bay Dining. Second, had you been paying attention you would know that we gave away two awesome romantic Valentine's Day packages on
Twitter
and
Facebook
! We'll be giving away two on Facebook and one on Twitter! To see what you are playing for,
check out yesterdays trivia blog post
.
Now even if you did not win yesterday or don't end up winning today's giveaways, Tinatapas should still be top of your list as far as romantic spots on Valentines Day, so be sure to call ahead and make reservations to spend the evening there with your loved one!
Now on to today's giveaway. By now you guys should know the rules, but in case you do not, I'll give you a quick refresher. Its not that hard really, as all you have to do is answer the three trivia questions I throw at you. Then if you have the correct answers you are entered into a random drawing! For those of you playing on Twitter, it does
increase your chances of winning if you Re-Tweet the original trivia tweet.
Facebook users just be sure to get the question correct as well. Answers submitted via the comments section of this blog do not count.
Now enough yapping from me and on to the trivia! Let's go:
True or False:  Tapas has evolved through Spanish history by incorporating ingredients and influences from many different cultures and countries?
True or False: The word "tapas" is derived from the Spanish verb tapar, "to cover"?
What is your favorite type of tapas from the Tinatapas menu? (There is no wrong answer here, I just want to know)
Okay guys, there you have it! Get those answers in and we'll announce the winners later today!