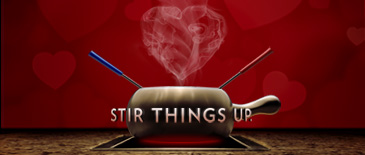 Hello there folks! Jerm here with an exciting Tampa Bay dining update for all of you hopeless romantics out there about Valentine's Day !
I know what you guys are thinking right now... Valentine's Day... really Jerm??? Well yes really, and for some of you procrastinators, (like me), you had better go ahead and start making those dinner reservations right now, to avoid the last minute headache!
One place to start calling on to make those reservations would be over at the
Melting Pot of Tampa Bay
! Starting this past Friday,
reservations can be made
and
Club Fondue members
, can make reservations as of January 12!
Celebrate Valentine's Day with the ultimate romantic cuisine -
fondue! $125 per couple.* 
FIRST COURSE
Choose from:
Champagne Swiss Cheese Fondue
A blend of Swiss and Gruyere cheeses with garlic and lemon in a Champagne base
with a touch of black pepper and nutmeg scallions
Creamy Tomato Cheddar Cheese Fondue
A spicy Cheddar and Swiss cheese blend with garlic, tomato, The Melting Pot's
homemade Green Goddess sauce, topped with 
SECOND COURSE
Choose from:
Strawberry Almond Salad with Raspberry Walnut Vinaigrette
Fresh baby spinach and mixed greens topped with strawberries, Feta cheese,
toasted almonds and topped with our basil infused balsamic vinaigrette
Caesar Salad
Crisp romaine lettuce, Caesar dressing, shredded Parmesan cheese, crispy
croutons and an added touch of Parmesan-encrusted pine nuts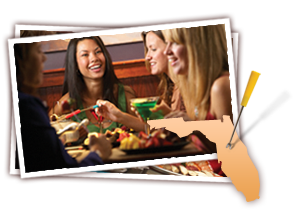 THIRD COURSE
Lobster Tail, Filet Mignon Florentine, Garlic & Wine Sesame Ahi
Tuna, Hefeweizen Marinated Shrimp, Honey Orange Chicken,
Fire Roasted Corn and Black Bean Ravioli
Cooked in your choice of complimentary cooking style or our Featured Champagne-
Champignon Cooking Style. Entrees are accompanied by our homemade dipping
sauces and an array of fresh vegetables. 
FOURTH COURSE
Choose from:
White Chocolate Crème Brûlée
A fondue version of the classic French dessert including white chocolate and
caramelized sugar
Raspberry Dark Chocolate Fondue
The Melting Pot's decadent dark chocolate with raspberry purée
Served with fresh strawberries, bananas, cheesecake, Rice Krispies Treats®,
marshmallows, pound cake and brownies for dipping. 
The Melting Pot will open at Noon on February 12-14 in honor
of Valentine's Day. 
Of additional note is that the The Valentine's Day menu will be available at these times:
$79 per couple Saturday and Sunday from noon to 3 p.m.
$99 per couple on Saturday & Sunday from 3 p.m. to Close
$99 per couple on Monday noon - 3 p.m.
Now if you are a fondue or melting pot newbie like I was, be sure and
read my blog from two weeks ago
about my experience at The Melting Pot for the first time.
Well that's all for now folks, but be sure you keep checking back this week for more updates on Valentine's Day related posts. I can also neither confirm nor deny that sometime this week we may even be doing a giveaway for a $100 gift-card for a lucky couple to enjoy V-Day at the Melting pot!
Well, again, stay tuned for more info on that and plenty of other Tampa Bay area events related news from the Tampa Bay team!