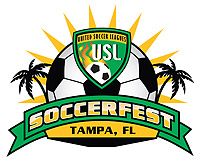 Hello everyone! Some great news we wanted to share ot off the presses!
The
Tampa Bay Sports Commission
is excited to announce the success of another
United Soccer Leagues Annual SoccerFest
, including its Annual General Meeting and Super Y League Tournament. 2010 marks the sixth straight year Tampa Bay has played host to the annual event.
From Nov. 17-23, more than 7,500 fans, coaches and participants arrived in Tampa Bay for SoccerFest, producing 9,100 hotel room nights and creating $4.6 Million in Estimated Delegate Spending. More than 130 teams competed at locations across the Tampa Bay area, including Ed Radice Field and the Land O Lakes Recreation Complex.
As the largest organization of elite-level soccer leagues in North America, United Soccer Leagues is dedicated to growing the sport at the grassroots level in every community. To learn more, visit
www.uslsoccer.com
.
The Tampa Bay Sports Commission works closely with Tampa Bay & Company and the community to attract, promote and organize major amateur sporting events, as well as grassroots youth sports programs that foster the ongoing development and quality of life for the entire Tampa Bay area.