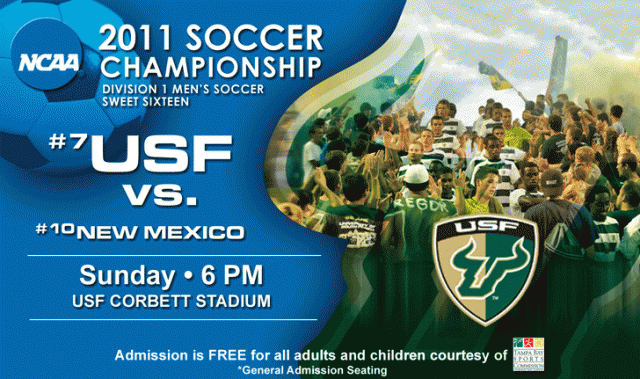 Hello there Tampa Bay Sports fans! Hope you are doing well on this Monday afternoon! 
Thanks to all who were able to make it out to last nights awesome victory that saw the Bulls fight past a tough Central Florida opponent to the tune of an overtime 2-1 victory!
A record breaking crowd of over 3,000 individuals attended the match.  What an incredible atmosphere!  The 2-1 victory has earned USF the right to host New Mexico (undefeated and ranked #1 in the country in the NSCAA coaches poll) in the Third Round this coming Sunday (11/26) at 6pm. 
Once again, through a partnership with USF and the NCAA, the
Tampa Bay Sports Commission
, been able to get free admission for all attendees again on Sunday so we can re-create this amazing atmosphere!
So make plans to be there this weekend folks to cheer the Bulls on to another victory!
Thanks to all for your help in helping pack the new Corbett Soccer Stadium last night and for Sunday's Third Round match for our Bulls! For more information, be sure to check out the
USF Athletics website
! BE sure to check back in for more updates on things to do in Tampa Bay!