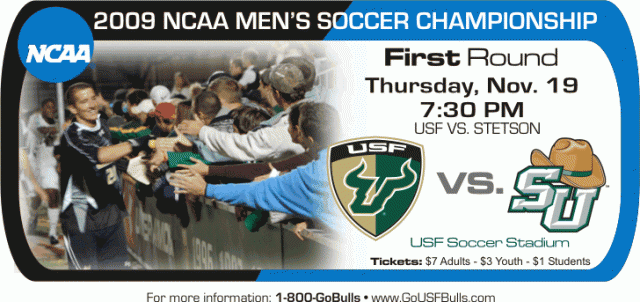 Your USF men's soccer team returns to the USF Soccer Stadium this Thursday, Nov. 19th, to compete against Stetson Hatters in the first round of the NCAA Tournament. Kickoff is set for 7:30 p.m. CFor those of you who are unable to physically be at the game, feel free to catch all of the thrilling action by logging onto
BullsVision Premium
via
GoUSFBulls.com
for live audio streaming beginning with kickoff.
Now of course in addition to the thrill of college soccer, The University of South Florida athletics department has reserved 500 free student tickets to the men's soccer game on for this game.
The winner of this game doesnt have an easy road ahead though as whoever comes out victorius will have to play the undefeated, untied Akron Zips in secound round play. The Zips are currently ranked number one in the country and will host the next game at their stadium, and I am sure its a wee bit chilly up there!
Earlier in the season, the Bulls defeated Stetson by a scoreline of 3-0, so the odds would be in favor of USF, but thats why they play the game, because you just never know!
Be sure to come out and support the Bulls tomorrow and for more info on USF Athletics visit the
GoUSFBulls.com
website!
Thats all for now, and stay tuned for more Tampa Bay Sports and updates on more college athletics related Tampa Bay Area events.