Hey folks... Julian back again with one more update: "Love your experiments (as you would an ugly child)," "Don't clean your desk," and "Make new words" are just a few of the rules that visionary, innovator, designer, and author
Bruce Mau
lives by. Calling him a visionary seems lofty but then again he tends to tackle the lofty. From his book Massive Change to his most recent The Third Teacher: 79 Ways You Can Transform Teaching and Learning, Mau communicates his vision of changing the design of the world. Again, a lofty challenge, but be assured he will convince you that it's a lot easier than you think; just don't clean your desk.
BRUCE MAU LIVE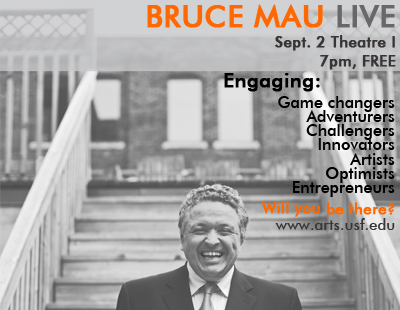 Thursday Sept 2, 2010
7pm USF Theatre 1
Free and open to the public
Reception and book signing to follow
in the Contemporary Art Museum
Bruce Mau Student Talk-Back
Friday, Sept. 3, 2010
10am- Noon
USF Theatre II
Free and open to all students and faculty
Informed by 25 years of studio experience in design innovation and collaboration with some of the world's leading artists, institutions and businesses, Bruce Mau has made the simple commitment to connect his life and work to education and human development. Motivated by the idea that we need to rethink our future and the way we will live in it, he asks in his widely successful Massive Change, "Now that we can do anything, what will we do? What if life itself became a design project?"
Bruce Mau's newest book, The Third Teacher (Abrams, April 2010) which he and his studio co-authored with OWP/P Architects and VS Furniture, presents a collection of ways that design can transform teaching and learning for students, families and teachers to thrive in tomorrow's world. Mau is engaging USF courtesy of the College of The Arts Distinguished Lecture Series (formally Talk of The Arts), and sponsored in part by the Arnold and Louise Kotler Memorial Endowment, Macy's Distinguished Arts Lecture/ Performance Fund, Lee and Victor Leavengood CAM Endowment, Stuart S. Golding Eminent Chair in Modern & Contemporary Art, and Sam M. Gibbons Endowed Chair in Architecture and Urban Design.
If for no other reason than to satisfy a curiosity, join us Sept. 2 at 7pm in Theatre I.
Bruce Mau Live is a free event and open to engage:
    game changers
    adventurers
    challengers
    innovators
    artists
    optimists
    entrepreneurs
… and of course anyone who is working on any of the above. After all, according to Mau, 9. Begin anywhere, 10. Everyone is a leader. You should really check this one out! In the meanwhile, I'll keep you posted about all the stuff happening in Tampa Bay including the most exciting Tampa Bay area events!