Hey Tampa, Jessica back again with some more interesting Tampa Bay area events.  The University of Florida, proudly located right here in Tampa, offers great events for the local community to come and share the creativity and beauty that is the USF College of the Arts.  This Monday through Saturday is the 34th Annual USF Student Art Exhibition at the William & Nancy Oliver Gallery and is free to attendees.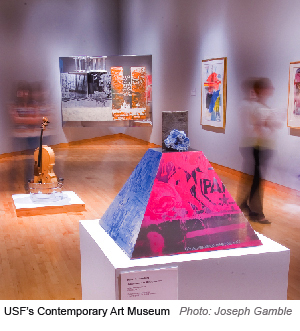 Also happening this week, as part of USF's
Visitng Artist Series
, Meg Mitchell will hold an intimate seminar speaking about her own art and experiences in the industry.  This event takes place at 3:30 pm on Thursday, March 18 in the FAH 227 on campus... and again, it's FREE!
Finally, next Friday, March 19 will be a special performance by the Florida Orchestra/Master Chorale: Mendelssohn's Elijah at none other than the David A. Straz Center for the Performing Arts (formerly the Tampa Bay Performing Arts Center).  Tickets start at just $22 and the event will take place in Morsani Hall.  Don't miss these opportunities to support local collegiate artists and enjoy a great live performance! 
For more info, check out
http://www.arts.usf.edu/
.  Be sure to come back often for more news about arts and culture in Tampa Bay and plenty more things to do in the Bay area!!  ~