Hey guys, Jerm back here with another World Cup update, except this time I am talking about preparations the USA Men's National team is making for their trip to South Africa this June where they will face England, Slovenia, and Algeria in the first round of the tournament.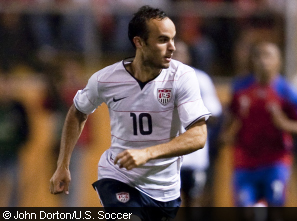 If you know anything about soccer, you know that this will not be an easy group to emerge from, so to get a leg up, Coach Bradley and the USA squad will face two top tier teams from Europe before they hop on the plane to South Africa!
The first match will put the US against a very tough Czech Republic squad. If you remember back in 2006 the Czechs were in the same group as the US, and gave us a very lopsided loss in the first group game by the score of 3-0. This should be a good tune-up for the guys and I will most definitely be looking to be at my local
Official US Soccer Bar
for this game!
The next game four days later will be against a very strong team as well from Turkey. Turkey made it to the 2008 European Championships semi-finals, before losing out to the German national team, so they as well should provide a good test for our guys heading into the opening rounds of the World Cup! I'll be at my Tampa bars for that game as well so I hope you will join me and have a beer (or six)!
Here are the details for both games, in case you wanted to catch them on tv at home, watch at a bar, or buy tickets and fly up yourselves! That's all for now folks, but stay tuned in for more watch party related Tampa Bay area events from us!
USA vs Czech Republic
- May 25 at Rentschler Field in East Hartford, Conn.
USA vs Turkey
- May 29 at Lincoln Financial Field in Philadelphia, PA.