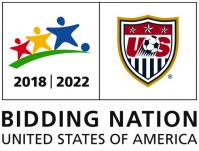 Hello there FIFA World Cup fans, Jerm here with a quick update! How many of you were watching the game this past weekend when in front of a crowd of over 50,000 screaming fans, the USA fought back against a tough Turkish opponent to take a deserved
2-1 victory in the second game of their official send-off series!
Well if you weren't watching it then let me say... shame on you as you missed a great game! Makes me even more excited for this summers FIFA World Cup in South Africa! One of the many things that made me excited about that game was the new ad that the USA Bid Committee ran during the game. I saw it around halftime I believe and it re-inforces the point about how amazing it would be for the showpiece event for the worlds game to be held here in the United States!
It would be even more amazing if
Tampa Bay was selected
to host a few games for FIFA World Cup 2018, or four years later for FIFA World Cup 2022! That is a possibility folks as we approach December 2 of this year when FIFA will select the host countries for 2018 and 2022!
Check out the video below and tell me what you think, and also where you saw the ad!