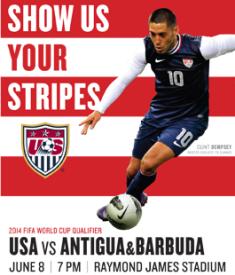 Hey there soccer fans! Jerm here with an update I know you guys are sure to love, and I am equally as excited about!
This Thursday evening at Raymond James Stadium, the US Men's National Soccer team will hold an open training session in preparation for the upcoming World Cup Qualifying match vs Antigua & Barbuda!
The training session will take place from 7-8pm, and the best part of this is that admission and parking are both free!
Come watch the U.S. teams train and hear exclusive live interviews with coaches and players, then see how the best players in the United States prepare to play international matches. 
U.S. Soccer Supporters Club members receive premium seating at the public training sessions, ensuring the best possible view of the players and coaches. The best seats at training are just one of the many benefits of being part of U.S. Soccer Supporters Club.
To RSVP for the open training, be sure to check out the US Soccer website, 
If you still haven't gotten your tickets just yet, be sure to do so soon! That's all for now, ,but stay tuned in for more updates on things to do in Tampa Bay!