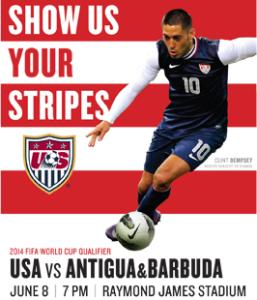 It's almost time folks! World Cup 2014 Qualifying begins this weekend as the United States Men's National Team will take on Antigua & Barbuda this Friday at Raymond James Stadium at 7pm!
This will be the be the 4th  of 5 five matches for the Men's team in 18 days as they have had previous friendly matches vs Scotland, Brazil, and Canada in preparation for this Friday's opening match!
This match will mark the first World Cup qualifier in the state of Florida since the USA defeated Mexico 2-1 on Nov. 23, 1980, in Ft. Lauderdale. If you haven't gotten your tickets yet, be sure to do so as this is going to be one amazing atmosphere!
The team arrived yesterday and preparations have begun for what could be a tricky match in the CONCACAF qualifying stage.
Coach Jurgen Klinsman should have the full compliment of his squad available for selection with the exception of Fabian Johnson, who limped out of the Canada match during warm-ups with a suspected calf injury. There has been no word on his status for this Friday.
Clint Dempsey put in a strong 90 minutes versus Canada and we got our first look at Jozy Altidore this camp as he came on late in relief to bolster the attack. Solid effort from the boys, but they will be looking to take the full 3 points on Friday vs Antigua & Barbuda!
All in all its gonna be a great atmosphere and should be a fun time for all, so be sure to get those tickets and stay tuned in for more soccer related Tampa Bay Sports updates this week!