Hello gang! Jerm here with another US Soccer and World Cup update for ya! The U.S. Men's National Team recently unveiled its the new Nike home uniform, which they will be sporting during the upcoming
Send-Off Series
in May and at the
2010 FIFA World Cup in South Africa
.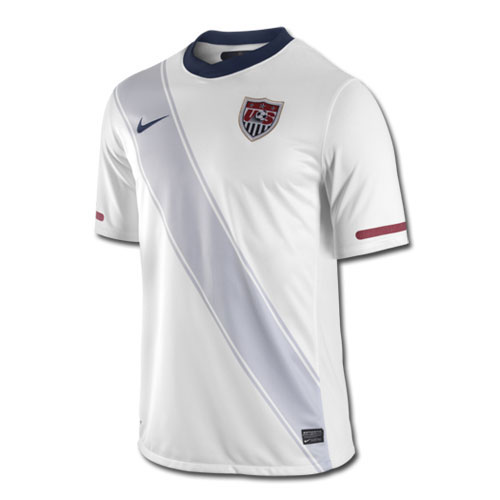 The team will  debut the new digs when they take on the Czech Republic on May 25 in East Hartford, Conn! The new uniforms are white with cheeky grey sash across the front right shoulder to the left side, as well as having an obsidian blue round-neck collar.
The uniform design is a bit of a play off of the same uniforms the Men's National team wore back at the 1950 World Cup when the Americans upset England, which to date is still one of the biggest upsets in the history of the game!
Let's hope the guys can get off to a similar start in this years tournament and make some more history this go round. I suggest every one go and
purchase one of these bad boys online
and ship it in time for the tournament so you can sport it at your
local watch parties
.
I don't know about you guys, but I am getting more and more excited about this summer as each day passes! The only thing that can be better than watching World Cup soccer on TV, is dreaming about the prospect of actually watching it in person!
Nice segue huh? Speaking World Cup Games in Tampa Bay, be sure to go to
www.VisitTampaBay.com/WorldCup
, or
www.GoUSABid.com/TampaBay
, and sign the petition to show your support for Tampa Bay and the USA as we try and bring this amazing event here to Tampa Bay in the year 2018 or 2022!
Well that's it for now folks, but stay tuned in for more news on World Cup related Tampa Bay area events and things to do in Tampa Bay!