Listen up Tampa, Lisa here with a fun Thursday night activity! If you were looking for What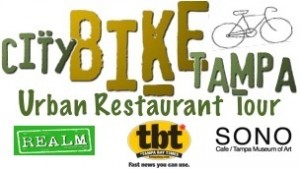 to Do this Thursday night, I have the perfect opportunity for you!
One of our favorite Tampa Bay Tours; City Bike Tampa, is hosting an
Urban Restaurant Tour
. Of course they aren't hosting it alone! REALM, SONO Cafe and tbt* are also helping out with the event. This tour is to promote Urban living and sustainability by doing a bike tour of Ybor City.
So here are the details. For only $5.00, riders will enjoy mouth watering menu items from 5 different restaurants. These restaurants include the SONO Cafe, Spaghetti Warehouse, New World Brewery, Tampa Brewing Company, and Gaspars Grotto. All of these locations are in the famous Ybor City. I almost forgot the best part! In the spirit of Halloween they are also doing a costume contest! This is optional, but they are awarding a grand prize to the best costume!
The event starts at 6:00pm and is a BYOB affair (Not bring your own alcohol, bring your own BIKE). Since it will take place at night, they are requiring everyone use a light on their bikes, and they are strongly suggesting helmets and locks. Their main location will be open until 6:00pm that evening if you needed to purchase any of these items. Food will be provided by each participating restaurant, but the decision on enjoying an adult beverage rests with each rider.
If you were wondering Where to Eat Thursday night, wonder no more! Come on out and join fellow cyclists as they experience the Urban Restaurant Tour. Don't forget to
RSVP
, since they only have 100 spaces!