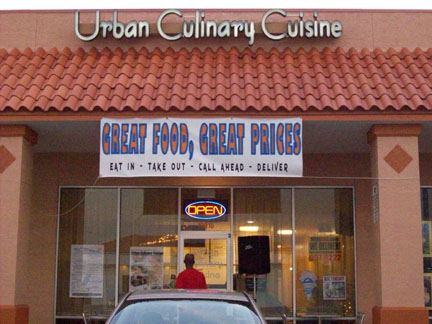 Sounds impossible, doesn't it? Lisa here to tell you all about one local chef who doesn't think so.
Chef John Saxtons of
Urban Culinary Cuisine
(Located in Wesley Chapel/New Tampa) is trying to make soul food healthy. He serves collard greens with smoked turkey instead of salted pork, and his mac n'cheese does not have egg in it. Traditional soul food lovers are probably appalled by this revelation, but he is doing it for a good reason.
Heart disease and stroke account for 33% of deaths among African Americans, and more than 40% of the population has high blood pressure. One of the easiest things to do in order to fight those diseases is to change your diet. But Chef's John's idea is not to deny yourself, just find new ways to enjoy old favorites.
In order to get more people on board, Chef John hit the road and visited local Churches with a message about healthy food. He also wants to help change the mindset of others about food, so they can continue doing the things they love. He calls his healthy soul food "Urban Essence." This is because it's all the old favorites, with a healthy twist.
Recently He partnered with the American Heart Association's "Tying the Family Together" campaign to challenge the African American community to walk for 30 minutes a day for four weeks. Chef John provided the food for this launch event.
Not everything on the menu is completely healthy, but if you have health issues just let Chef John know and he can tweak the recipe for you (That's pretty cool). So if you're looking for a fun night out and are wondering Where To Eat, Urban Culinary Cuisine should be on the top of your list!
Stay tuned for more Things To Do In Tampa Bay!