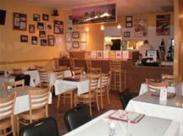 Hello gang, Jerm here with a Tampa Bay dining update for ya! I was always told that happiness comes in small packages - a diamond ring, a baby, and
Urban Culinary Cuisine
!!!
Experience a fabulous dinner in an intimate setting at the Urban Culinary Cuisine. I went to this place a few weeks ago and fell in love with the Southern Style cuisine and urban flair!
Well now, I can go in there and sample more dishes at later hours as they just recently announced new hours! That's probably not good for me and my diet, but when was the last time I really stuck to a diet!
Planning a trip to Urban? Call to make sure the Cafe is open. They even often close the doors to cater large events!!!
Monday thru Friday:    1pm to 9pm
Saturday:                      1pm to 10pm
Sunday:                         3pm to 7pm
Whether its appetizers, drinks, dinner, dessert, find your yum factor at the Urban Culinary Cafe! That's all I got for now, folks but stay tuned in to updates on things to do in Tampa Bay!