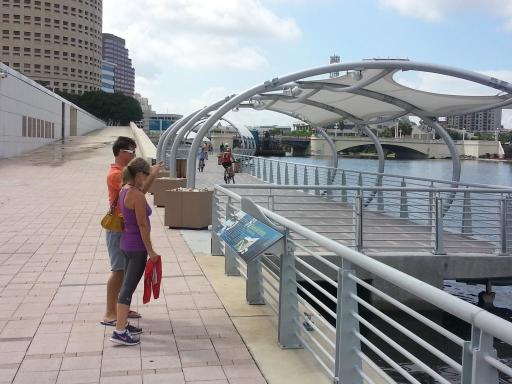 This past weekend brought sunshine and the opportunity to bike the Tampa Riverwalk.   
The ride began at Water Works Park and I crossed the bridge to Ulele and wove my way through the dense oaks with a sense of anticipation.
As I made my way past the Straz Center for the Performing Arts, I contemplated on how much this city and this downtown had changed in the dozen years since I chose to make it my home.
The Tampa Museum of Art, the Glazer Children's Museum and Curtis Hixon Waterfront Park all rising like a Phoenix in the past 5 years have transformed the center of downtown  Tampa for visitors and residents alike.
The next portion zigged and zagged through the business district, past MacDill Park and yet another new reminder of how Tampa is on the move, a kiosk for Coast Bike Share, where you can rent a bike and ride, and ride for only $5 an hour.
The tunnels along Tampa's Riverwalk came into view, offering cool place to rest and gaze into the Hillsborough River -- spot a manatee, or observe others, like myself, walking, running or biking.
As I cycled through USF Park towards the Tampa Convention Center (little known fact: it is shaped like a riverboat when looking at it from the water), I was struck by how cool it is to see Tampa's own pirate ship. The Jose Gasparilla sits silently waiting for that magical day in January when she comes to life full of pirates ready to "plunder" the city and kick off the Gasparilla Pirate Invasion.
The area next to the convention center was full of people ready to test out the biyaks at the Tampa Bay Water Bike Company. Three students and two friends saddle up for a two-hour tour on the river while a young couple inquired about eBoats Tampa at the neighboring dock. 
Around the corner, you can admire the yachts parked outside the Marriott Waterside. Truth be told, this is one of my favorite views of the city.
As I rode through Cotanchobee Fort Brooke Park it was clear I was not the only person relishing the day's clear skies. A group of people are finding their center as they practice yoga in the park outside of Amalie Arena.
The end of the road came in the form of the soaring Tampa Bay History Center, home to a treasure trove of artifacts and information about the city and region, as well as the Columbia Café, a great place to grab a bite at the end of your ride.