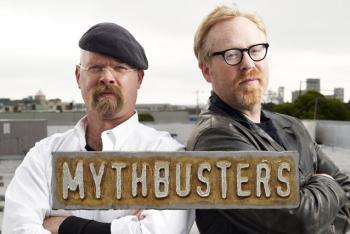 As Sea Monsters move out, time to make way for an explosive and exciting exhibition coming to Museum of Social & Industry (MOSI).  MythBusters: The Explosive Exhibition will make its way to MOSI in Tampa on Friday, Feb. 7, 2014 for an exclusive Florida engagement. 
This exhibition creates a hands-on, interactive experiences for guests of all ages by combining popular scientific facts with innovative, family-friendly displays.  MythBusters, co-hosts Adam Savage, Jamie Hyneman, Tory Belleci, Kari Byron and Grant Imahara were heavily involved throughout the development of the exhibition and promise that guests will experience a true MythBusting encounter. 
When interviewed Savage said, "It's exciting to see fans take on some of our favorite experiments from the show while drawing their own conclusions and data.  Although they are tackling the same myths and questions, each guest can have a unique experience within the exhibit."
The MythBusters exhibition will showcase:
Blueprint Room: Based on the real-life operations room of the MythBusters' iconic set, this room acts as an introduction to MythBusting and is filled with gadgets, props, video and, of course, blueprints used by the hosts to explore myths on the show.
Workshop: This is the place where guests turn into investigators and use real science to test myths.  Guests will discover whether they get more wet running versus walking in the rain and find out if toast really does always land buttered-side down.  (Someone let us know about the walking vs. running in the rain, thanks to our Tampa Bay/Florida weather, this would be a great thing to know! Right?!)
LIVE MythBusters Demonstrations Stage: Here guests have the opportunity to view and participate in live science demonstrations that dissect myths with the help of a team of energetic MythBusting facilitators.
The Explosive Exhibition are currently on sale.  The exhibition will make its southeastern debut in Tampa on Friday, Feb. 7, 2014 and will be on display at MOSI through Thursday, May 8, 2014. Museum hours are Monday – Friday, 9 a.m. – 5 p.m., and Saturday and Sunday, 9 a.m. – 6 p.m. Tickets are on sale now, and reservations are highly recommended. Tickets can be purchased by calling 813-987-6000 or visiting mosi.org. 
Tickets for MythBusters: The Explosive Exhibition are $24.95 for adults, $21.95 for seniors (60+) and $19.95 for children (2-12) and include admission to either MOSI's permanent exhibits OR a documentary IMAX film. MOSI member tickets to MythBusters are $11.95 for adults and $9.95 for children (2-12). Prices subject to change.
For more information, visit mosi.org.
Stay tuned for more ways to Unlock Tampa Bay at Tampa Bay's top attractions!