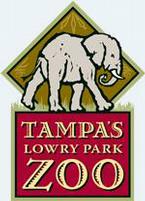 Hi all - Travis back with some Tampa Bay Entertainment fun that you'll all want to take advantage of.  As if you didn't have enough reasons to visit Tampa's Lowry Park Zoo, now paid daytime admission includes free, unlimited amusement rides featuring a log flume, family roller coaster, behind-the-scenes narrated safari ride and more.
We are talking about the number one zoo in America poeple, so start making your plans!  Plus, on Father's day Weekend, dad gets free admission to the zoo!!!!!  So come on our and enjoy everything that this amazing place has to offer.  Just head over to www.LowryParkZoo.com to get more details. 
And of course, keep checking back here for more great things to do in Tampa Bay.