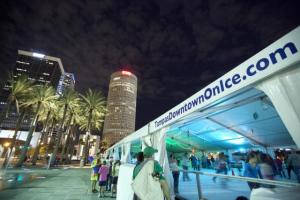 I don't know about you, but I'm still STUFFED from yesterday's Thanksgiving festivities! For those who are ready to brave the world and peel off their super comfortable stretchy pants and get this weekend started, I've got a list of my top things to do this weekend in Tampa Bay! There are plenty of things to do with friends or family, while taking in Tampa's Tropical Wonderland.  Plenty to continue to be thankful for!   Cheers Y'all! - Kat
 
Fry-Day… get it? Haha! (Friday)
Busch Gardens Tampa, Christmas Town
With over a million twinkling lights, Christmas Town is back for another year.  Plan to fill your senses with seasonal sights, sounds and flavors.  A beautiful family tradition for many.
Penguin Appreciation Weekend, Florida Aquarium (Fri/Sat)
A full weekend dedicated for our adorable tuxedo-looking-wearing friends.  Penguin themed activities including scavenger hunts, special penguin shows and SCUBA divers.
Downtown on Ice, Curtis Hixon Waterfront Park (All Weekend)
$10 per person is all it costs for a 90 minute skate (including skates) at Tampa's Downtown on Ice.  Photos of embarrassing wipe-outs are encouraged.  Times vary, www.TampasDowntownOnIce.com
Tampa Bay Lightning vs. Pittsburg Penguins
Will the Tampa Bay Lightning streak continue? We hope so! Puck drops at 4 p.m.
SaTurkeyDay… ha! (Saturday)
Made by Hand Art Show, Cotanchobee Park
This art show returns for its 11th year in a row, featuring local and independent artisits crafting handmade, one-of-a-kind items.  10 a.m. to 4 p.m.
Kanye West-The Yeezus Tour, Tampa Bay Times Forum
21-time Grammy Award-Winner Kanye West returns to the Tampa Bay Times Forum for his fall THE YEEZUS TOUR.  We wonder if fiancé Kim Kardashian will join him? 8 p.m.
SunDiet… no? not funny? (Sunday)
Tampa Downtown Market, Special Appearance by Santa (FREE photos)
Located at 601 Ashley Dr., across from Curtis Hixon Waterfront Park during this Sunday's downtown market, guests can enjoy free photos with Santa (from 11am-2pm). There will be an area to make non-perishable food donations. Oh! And photos with Santa aren't just for the kids, Fido is invited too!  Shop hand-made gifts, local produce and even Poinsettias.
Victorian Christmas Stroll, Henry B. Plant Museum
Stroll back in time while Victorian holiday traditions come to life!   10 a.m. to 8 p.m.  
Elf, Tampa Theatre
One of my holiday favorites, Elf will be showing at the historic Tampa Theatre along with other Holiday Classics throughout Sunday afternoons through the holiday season. 3 p.m.
Trans-Siberian Orchestra "The Lost Christmas Eve", Tampa Bay Times Forum
Celebrating 15 years this multi-platinum rock opera will knock your Christmas socks off! 3 p.m., 7:30 p.m.
Yoga in the Park, Curtis Hixon Waterfront Park
FREE yoga in the park at sunset from beginners to experts, all levels welcome! 5 p.m.