Good morning Tampa Bay, Alex here to let you know some great news about The Westin Tampa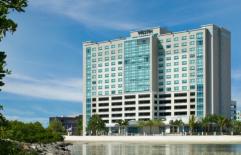 Bay!
Recently, The Westin Tampa Bay was ranked the #1 Hotel in Tampa by the U.S. News & World Report.
Wondering why The Westin received this recognition? According to U.S. News & World Report there was quite a few reasons...  The brilliant view of Old Tampa Bay from all 255 rooms, the ultra-comfortable rooms (featuring the trademark heavenly beds) and the gracious front desk staff.
Guests also appreciate having access to the heated indoor pool, gorgeous beach and tasty-in house restaurant.  The Westin Tampa Bay suggests you order from the delicious prix-fixe menu at The AQUA Bar and Grille during your visit!
Next time you are looking for a wonderful hotel and/or a great place to eat, keep The Westin Tampa Bay in mind!
Check back often for more information on things to do and Tampa Bay Hotels!