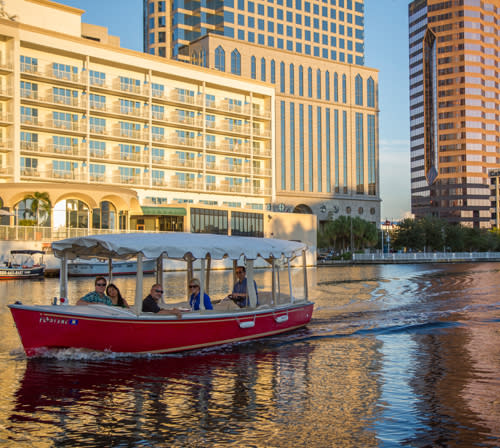 TripAdvisor users have ranked Tampa eBoats the top outdoor activity in Tampa Bay.
We can understand why after reading review like this from Anna K. from Oakland, Calif.:
We rented an eboat for 4 hours. We toured the bay, harbor, and river. The staff are awesome. Very friendly, funny, and helpful. They tell you all you need to know to drive your boat and give you a map. The boat is great and the sights are beautiful.
Tampa eBoats, based at the public docks outside the Sail Pavilion and Tampa Convention Center, rents electric-powered 8- to 10-person boats for excursions around Tampa Bay's sparkling waterfront. For as little as one hour and as many as four, you can explore the lower reaches of the Hillsborough River and the channels around Harbour Island and Davis Islands. While you're out, swing buy Jackson's Bistro or one of our other waterfront restaurants. Soon the city will add docks to Water Works Park, making the popular Ulele restaurant available to boaters.
It's a great way to go boating without having to buy a boat.
You can rent a captain to pilot your eBoat, or, if you want to be daring, take the helm yourself after a quick lesson in driving and parking. Believe me -- if this landlubber can do it, you can, too.
An afternoon on a eBoat is a great way to spend time with family and friends. It's also a way to get a new perspective on the city most people see only from the land.