Ahoy Mateys! Kat here with some fashion tips for my local Buccaneers and Wenches so listen up...
This weekend pirates will invade Tampa Bay in search of all kinds of treasures.  Whether you are an Old Salt (experienced sailor) or a first time Seadog at the Gasparilla Pirate Invasion, Hyde Park Village shops in South Tampa have put together some trendy garbs from some of their favorite stores to insure you are the most stylish Scallywag on Bayshore Boulevard this weekend.
For the Buccaneers:
Shiver me timbers, sunglasses are a MUST!
Fashionable swashbucklers stick to a three-color pirate palette: red, black and stripes!  Sail away with your favorite looks for the season and expect some really great discounts at Brooks Brothers who are having a huge sale until January 31.
For the Wenches:
Blimey, if you could take one piece of clothing advice, this one is the most important… leave the heels at home, stick to flats or boots.  You wouldn't believe how many wenches are ready to walk the plank by Noon!  Check out Francesca's Collections for fabulous flats and trendy shades.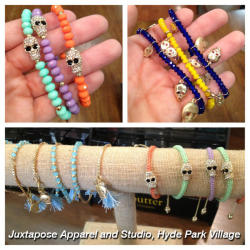 Make sure you carry a cute purse/messenger bag big enough to bear your booty.  Over the shoulder bags work best and are easiest to keep up with especially after too much rum.  Anthropologie offers all wenches one-of-a-kind, hand-crafted riches.
A pirate's jewelry should show off the best of their treasures!
As far as jewelry, the most fashionable wenches always wear cute skull and cross-bone accessories. Check out Juxtapose Apparel and Studio for skull scarves, arm candy and earrings! Buy more than one bracelet and stack them up.  Classic pirates usually wear only one single gold hoop earring, but a pair of gold hoops will also work!  Think BIG, gaudy, fun…. be BOLD, be a show-off and be fabulous!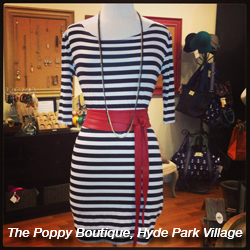 Stick to sun dresses or black pants and a stylish top.  The Poppy Boutique offers great dresses just like the featured striped dress with the bold red belt.  If you are a last minute landlubber and looking for a discount, TODAY is your last day to take 20% off of all Gasparilla items at The Poppy Boutique.
Now that you are shipshape, looks like you are ready to weigh anchor and hoist the mizzen for 2013 Gasparilla Pirate Invasion!
Still looking for somewhere convenient and close to the Gasparilla parade route to park your vessel? For only $20 (cash only) you can park Saturday (starting at 8:30 a.m.) at any of three parking garages at Hyde Park Village.
W. Swann Ave. at S. Rome Ave., across from CineBistro
S. Oregon Ave. and W. Swann Ave., above Lifestyle Family Fitness
S. Rome Ave. and Snow Ave., next to Nature's Table Café