Greetings Tampa Bay!  It's Jessica with another Tampa Bay entertainment update.  For those of you who haven't heard, the Tampa Bay Performing Arts Center is presenting an exciting performance in October at the St. Pete Times Forum... 
WALKING WITH DINOSAURS - The Arena Spectacular
, on it's tour across North America, will be making a stop in Tampa Bay from October 14 to October 18 for eight performances.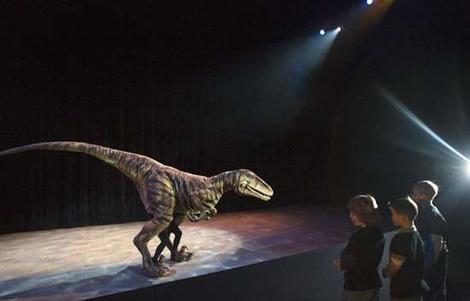 "WALKING WITH DINOSAURS," based on the award-winning BBC Television Series, brings the extinct creatures back to life to roam the earth in a spectacular theatrical arena show.  Ten species are represented from the entire 200 million year reign of the dinosaurs.  The show depicts the dinosaurs's evolution, complete with climatic and tectonic changes that took place, which led to the demise of many species.  With almost cinematic realism, WALKING WITH DINOSAURS has scenes of the interactions between dinosaurs, and the audience sees how carnivorous dinosaurs evolved to walk on two legs, and how herbivores fended off their more agile predators. 
Now that you know a little more about the show I can share with you the reason we are promoting this event in August... you guessed it, we have a special offer for you!  This is your chance to join the 2.4 million Americans who have already seen the production since it opened in July 2007!  A special offer in ticket prices is available for the Thursday, Friday, and Saturday performances in October.

Thursday @ 7:00pm or Saturday @ 7:00pm Special Ticket Offer:
Lower Plaza Level (Sec. 101-116 Rows F-S) --
$44.75
(Reg. $53.75)
Plaza Top 4 Rows & Jeep Club Sidelines --
$37.25
(Reg. $43.75)
Friday @ 7:00 pm Special Ticket Offer:
Lower Plaza Level (Sec. 101-116 Rows F-S) --
$54.75
(Reg. $68.75)
Plaza Top 4 Rows & Jeep Club Sidelines --
$47.25
(Reg. $47.75)
Those interested in this money-saving offer should call or e-mail with credit card numbers, expiration date, and number of tickets needed.  You will also be required to provide a name under which you would like the tickets to be reserved (for Will Call pick-up the day of the show).  But hurry, the deadline for this special offer is Friday, October 9, or until they are sold out!  Contact Chris Duffy with any inquiries at
cduffy@sptimesforum.com
or call 813.301.6812 for more information. 
For a sneak peak of the action, check out an exclusive video on our Facebook fan page @ www.Facebook.com/VisitTampaBay.  Until next time, enjoy all the great things to do in Tampa Bay and keep checking back for more news about Tampa tourism.