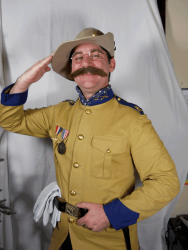 Have you ever wondered what it was like to stay at the Tampa Bay Hotel when Teddy Roosevelt was a guest?
On Tuesday, August 28th at 2 pm you can step back in time and join Lt. Colonel Teddy Roosevelt as he shares his experiences in Tampa during the Spanish American War and his adventures at the Tampa Bay Hotel. You will have the unique opportunity to ask questions of Teddy Roosevelt.
 
Museum Curator Susan Carter will begin the tour with an overview of the Hotel and Museum. Susan will also provide a wrap-up and question and answer time.
 
Make your reservation by emailing sshifke@ut.edu or calling Sally Shifke at 813.258.7302. Regular admission to the Museum applies. If you are a member, you may join for free.
 
Teddy Roosevelt historian, Michael Norton, will play Lt. Colonel Teddy Roosevelt.
 
Henry B. Plant Museum is located next to downtown, on The University of Tampa campus at 401 W. Kennedy Boulevard. For additional information visit the website at www.plantmuseum.com.
That's it for now, but stay tuned in for more updates on arts and culture in Tampa Bay!