Hello there CMP Conclave attendees! Jeremy here and back with an update on some things to do in Tampa Bay for ya! It's not  gonna be all work and no play so we wanted to make sure to get your around and show you the highlights of this awesome place that we call home! Here are some quick details:
Highlights of Tampa Tour

Friday June 8, 2012
Tour Timing: 1:00pm –5:00pm

The city of Tampa comes to life as your guide highlights the area. Begin with a visit to the old Tampa Bay Hotel at the University of Tampa.
This National Historic Landmark features unique Moorish revival architecture and dramatic minarets. Soak in the splendor of days gone by as you see and hear the history of this fabulous hotel and its founder, railroad tycoon, Henry B. Plant.
A drive along beautiful Bayshore Boulevard and through the Hyde Park area will show you the diverse architecture that is Tampa.
The Florida Aquarium & Tampa's Riverwalk
Saturday, June 9th, 2012
Tour Timing: 9:30am- 11:30am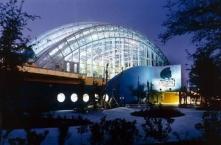 Tampa is blessed with a beautiful waterfront and this morning you will have an opportunity to travel along that waterfront on the Riverwalk.
This will take you from the Tampa Convention Center, the Tampa Marriott Waterfront and its adjacent park, past Channelside and to the Florida Aquarium.
Along the way your guide will hear about how Tampa sprang up and thrived along this water's edge and developed into what you see today. Once you arrive at the Aquarium you will experience the story of Florida's water.
It's gonna be a pretty awesome tour so be sure to sign-up so you won' t miss out on this one! For more information, contact our friends over at Bay Area Destination Mangement for more info at 813-962-5888 or submit the registration form.
That's all for now, but stay tuned as we'll be back with more updates on Tampa Bay area events and other going's on!