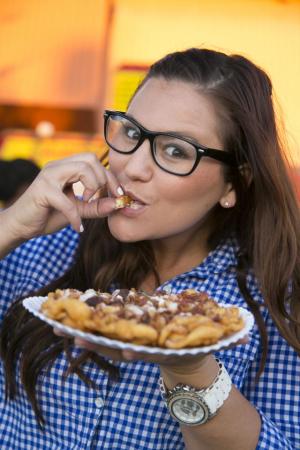 The Florida State Fair is back for the 110th Anniversary and the number one place for FUN! From satisfying your sweet tooth with funky fair foods to activities the whole family can enjoy. (Did you know there are 110 FREE things to do?)  We've got you covered with our top ten things we don't want you to miss at the Fair this year! Get out to the Fairgrounds and discover the fun at the Florida State Fair, happening now through Monday, February 17th.
Bacon Maple Funnel Cake
Fried Oreos and fried Snickers are old news.  It seems in the foodie scene, anything with bacon is IN!  I would say this might be one of my favorites and definitely a top-pick fair food this year.  This deep-fried, bacon-infused funnel cake is topped with powdered sugar, homemade maple butter cream icing and garnished with real bacon bits and it is oh-so-very delicious! Insider's tip, the BEST Bacon Maple Funnel Cake is located at "Paulette's World Famous Lemonade" and she's got three locations, so her stands are easy to find.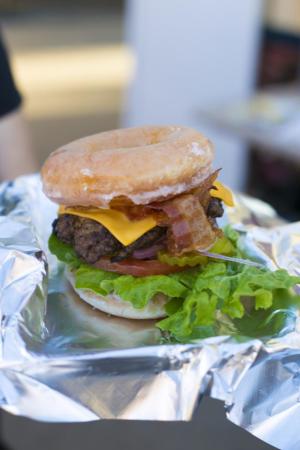 Ramen Noodle Burger
I know you're saying another Fair, another burger… but, this year Dennis & Cheryl Reas of Carousal foods (33 year Fair veterans) created the newest fair sensation: The Ramen Noodle Burger.  A fresh burger inside a Ramen Noodle bun with tangy Asian slaw and finished off with a sweet Oriental sauce.  I will say this is a messy one, but totally worth the extra napkins and embarrassment of slaw running down your face.
Doughnut Burger
Back again for another well-deserved year at Carousal foods, the Doughnut Burger returns and should be given alumni respect.  This beefy beauty is surrounded by two whole Krispy Kreme Doughnuts!  Topped with all your favorite ingredients including crispy bacon and cheese, I have to admit I was most hesitant to try this one and was thoroughly surprised at how sweet, savory and satisfying it was.  We didn't leave a single bite, well worth the dough… haha get it, dough?  Anyways, if you didn't indulge in this fabulous fair treat last year, there's still time!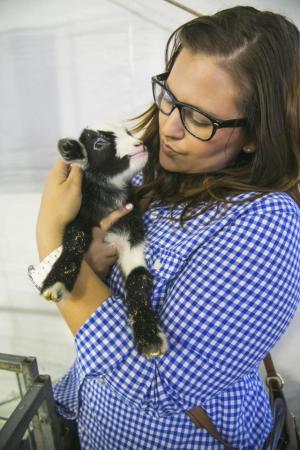 Southern Comfort Homemade Ice Cream from Polar Bear Ice Cream
Oh my sweet southern heavens... this is a MUST-TRY at the fair this year. Every year, Griff Gillette returns to the Florida State Fair (going on the 26th year) with a new signature ice cream creation.  This year's flavor: Southern Comfort. Are you ready for this?  Homemade sweet potato hard ice cream, torched marshmallows, waffles, brown sugar, maple syrup, applewood smoked candied bacon and a pinch of cayenne pepper, topped with bacon brittle y'all (whaaaaaat!!!).  Every batch is made from scratch inside the double-decker ice cream truck with no chemicals and pure butterfat making it the real deal, a rich and creamy concoction! Griff and his team make around 300 flavors a week. Other favorites include the pumpkin, cotton candy and peanut butter chocolate. Trust me when I say you will not regret (or your taste buds) stopping by Polar Bear Ice Cream.  Just tell Griff, two pretty Tampa girls sent you!
Stuffed Pickles from Judy's Husbands Stuffed Pickles
Okay, Judy and her husband win cutest fair couple award!  So, let's talk about the stuffed pickles, it is exactly what you would imagine… pickles stuffed with deliciousness.  I have to admit I was a little weary of a few of the flavors (chocolate peanut butter- HEY it was actually fantastic, sweet & salty), but I was pleasantly surprised on how delicious and refreshing stuffed pickles are.  With flavors like: Goat Cheese with Pear (Yumo), Smokey Beef and Cream Cheese, Bacon and Cream Cheese, Jalapeno and Cream Cheese and even the Taco stuffed pickle. These light and salty treats are a nice change-up from the usual fried fair foods. Their location is a little tricky; if you have trouble finding them they are on the Midway near the Orient Road fair entrance.  Make sure you walk by and welcome them, this is Judy and her husband's first year at the Fair.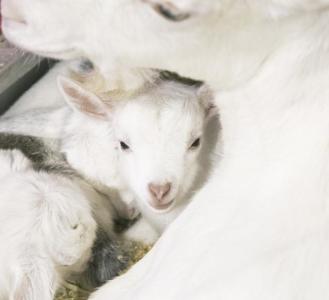 Play with Baby Goats & Milk a Cow in the Mooternity Ward
No Fair is complete without newborn fur babies! Yes! There are plenty of baby animals born at the Fair throughout the week to "awwwww" at.  As a matter of fact, just yesterday we had the chance to hold a day-old baby goat (or kid, the official name for a baby goat, but that sounded weird in my sentence) and it was just magical. This was one of my FAVORITE experiences I can remember as kid and now, even as an adult.  The Mooternity Ward is vital to the fair, educating children about all kinds of different farm animals and every day farm life. Ever milked a cow? Most Tampa-nians haven't… well, grab a bucket y'all, now's your chance!
Ride the Dutch Wheel
Built in 1989, the 1st Big Wheel to hit the U.S. this wonderful marvel stands over 140 ft. Built in Holland, this family-friendly attraction seats 144 passengers and has over 4,000 LED lights that illuminate the night and the Florida State Fairgrounds.  It costs six ride tickets per person, but is completely worth it for an epic photo opp!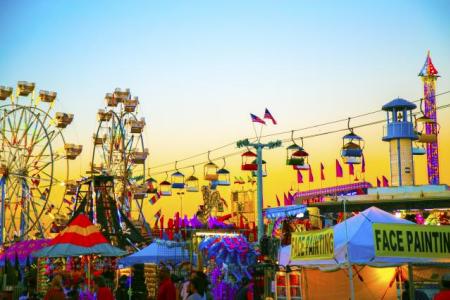 FMX Flying Motorcycle Extreme Show
Looking for a FREE Adrenalin RUSH? These world-class athletes perform gravity-defying, aerial tricks and maneuvers on a custom-built course. Imagine skateboarding, but with motorcycles! The shows are located in the Entertainment Hall and did we mention they are FREE?
Shopping at Extravagant Expo
Located in the Expo Hall, by Gate 1, the Extravagant Expo has everything from A-Z.  Full of ordinary odds and ends.  From luxury cars and Australian opals to fantastic fudge and tea towels- the Fair is a one-stop-shop for all kinds of treasures!
Living History Museum in Cracker Country
Step back in time and visit Midred W. and Doyle E. Carlton, Jr. in Cracker Country, a living history museum that is a permanent fixture on the Fairgrounds since 1978 and educates more than 20,000 school children every year.