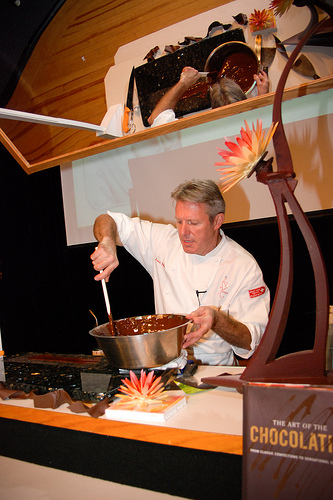 The 2013 Festival of Chocolate at the Museum of Science & Industry will be here before you know, and with so many options for you to choose from, we wanted to drop by and give you a little help to determine exactly what you can expect and some tips on what to check out first!
This event, is designed for chocolate lovers of all ages, so definitely take advantage of chance to be a kid again no matter what your age, and stuff your face full of chocolate goodness, as at the ripe of age of 31, I will definitely be er-living my childhood this day!
Here are the top 5 things you should definitely check out while at Festival of Chocolate:
Enjoy Yourself - Well this was a no-brainer, you are at a chocolate festival so enjoy yourself and eat as much chocolate as you can!
 
Watch World Records Be Broken - On Monday January 21, 2013 MOSI and The Festival of Chocolate will attempt 2 Guiness World Records. Only 300 Spots Available.
 
Demos and Classes - Some of the top pastry chefs from around will be on hand to showcase their skills in sessions such as Chocolate 101, Chocolate Basket Weaving, Proper Chocolate Tasting, and much more! Classroom environments will also show students the techniques centered around chocolate flower making, as well as creating the perfect truffle! Yum!
 
Live Competitions - "Eat" your heart Food Network, as the "Best of Chocolate Indulgence Competition" as well as "Live Cake Decorating Competition" will have chocolate go-ers on the edge of their seat in these thrilling head to head competitions.
 
Cocoa Couture Fashion Show - Pretty girls and chocolate, yup that should definitely be a no brainer. This portion of the event will feature fashionable clothing pieces made from items such as candy wrappers!
As you can see, this year's Festival of Chocolate is going to be an epic chocolate event that you won't soon forget, so if you have already, be sure to purchase your tickets! That's it for now, but check back with us on more top Tampa Bay area events and things to do in Tampa Bay!