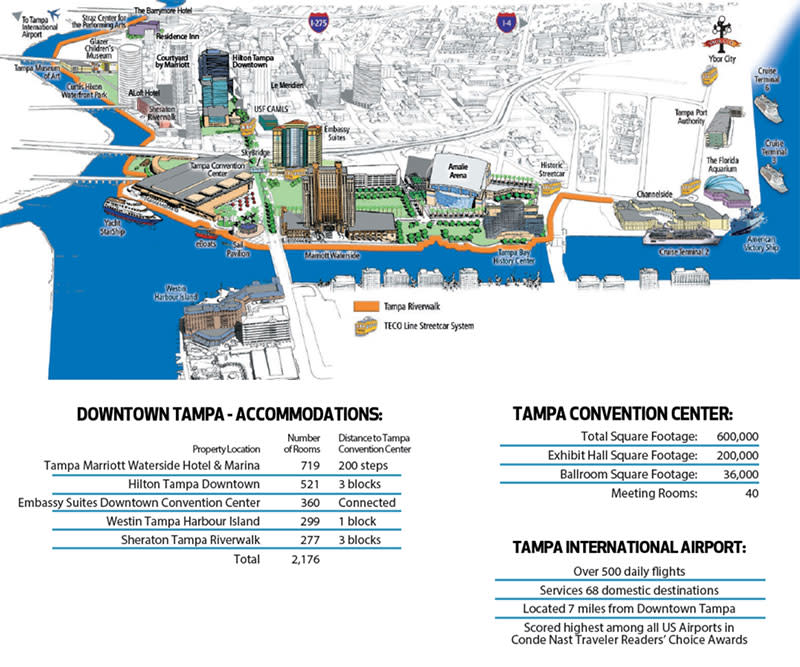 HOME IS WHERE THE HEART IS - More than 70 hotels providing over 21,000 rooms to choose from for your next meeting. Whether your concerns are budget or indulgence, your attendees are sure to find all the comforts of home at the highest levels of hospitality.
 
THE SKY IS THE LIMIT - Home to Tampa International Airport, known fondly as "America's Favorite Airport," traveling attendees can arrive comfortably on any of TIA's 560+ daily flights on 26+ major carriers. In 2012, Tampa International Airport was ranked in the top 10 for lowest round-trip airfares in the United States.
 
ALWAYS ON THE MOVE - By taxi, shuttle, streetcar or trolley, attendees will move effortlessly from place to place along Tampa's efficient system of streets and interstates at a very cost effective means.
 
CONSTANT REDEVELOPMENT - A revitalized downtown that includes our newly developed Riverwalk connects Tampa's hotels and convention center to its major attractions. Other Tampa projects include new 4 and 5 star hotel developments along with the opening of the new Center for Advanced Medical Learning and Simulation (CAMLS). These constant changes afford Tampa to be the proud host of major events including four Super Bowl events, the NCAA Women's Final Four and the Republican National Convention.
 
ANYTHING BUT BOREDOM - Tampa Bay is an intimate city with all of the big city attractions. From museums and theatres to guided tours and theme parks, whether it is daylight or midnight, attendees will find anything but boredom in Tampa Bay.
 
MEETINGS WITH STYLE - From the Tampa Bay History Center and Glazer Children's Museum, to the wildlife and wild rides at Busch Gardens to the Straz Center for the Performing Arts, Tampa's various unique meeting venues are the perfect inspiration for your next event.
 
CHANNELSIDE / CRUISE PORT - Channelside Bay Plaza is an urban entertainment center on Tampa Bay's downtown waterfront adjacent to The Florida Aquarium and cruise terminals. The $35 million center includes restaurants, shops and nightclubs in an open-air waterfront atmosphere.
 
SPICE IT UP WITH LATIN FLAIR - Tampa Bay is home to the renowned Ybor City/Latin Quarter: a part of the downtown area full of history, dining, unique venues, spectacular nightlife and cigar rolling.
 
FIND YOUR WAY TO OUR FAIRWAY - With over 75 golf courses in the Tampa Bay area, attendees can reduce their handicap as they network their way to success. Golf not your cup of tea? Take a boat trip and let the bay breeze blow through your hair or spend the day shopping in any number of our malls, plazas and villages.
 
FULL-SERVICE - We are your local destination experts and are here to assist you in finding the perfect venues and accommodations for your event, which will allow you more time to focus on the agenda. We are the official information source for Tampa Bay visitors and we are at your service. Our services are complimentary!
Submit a RFP for your next meeting.