Hey Tampa Bay- Melissa here about a concert that is rockin' and rollin'…right into Tampa this Thursday, September 16th at 7:30 p.m. Tom Petty and the Heartbreakers is making the St. Pete Times forum one of their many stops on their 2010 North American tour. Already excited? Well, it gets better! Iconic rockers ZZ Top are hitting the stage on 10 of these tour dates and the Tampa show is one of them!
Tom Petty and the Heartbreakers have been around for nearly 35 years selling out shows, earning Grammy nominations and getting inducted into the Rock and Roll Hall of fame. Texas rockers, ZZ Top have been just as impressive and iconic with their combination of blues, boogie and beards!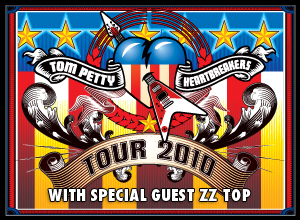 If you are a fan of either, or both of these bands this show will not be one to miss. Tickets are still on sale, and start of at a very affordable price. Here are the prices fleshed out – $29.50, $49.50, $75.00, $95.00 and $125.00. There are four seat packs available for $99, but those tickets are limited and must be purchased in advance so anyone interested should act fast.
So, if you're interested in the show, why stop there? Make it an evening by purchasing tickets to the Medallions Pre-Show dinner as well. If you guys are wondering where you can buy this great stuff, all of the details can be found online with the St. Pete Times Forum.
If you are ahead of the game and already purchased these tickets for the May 9th date that was rescheduled, don't fret-those original tickets will be honored.
Alright, that's it for me. So whether you are a long time fan, newly introduced to this music or just looking for a great time, the Tom Petty and the Heartbreakers with ZZ Top will leave you satisfied. As always, don't forget to keep checking back here for great things to do in Tampa Bay.