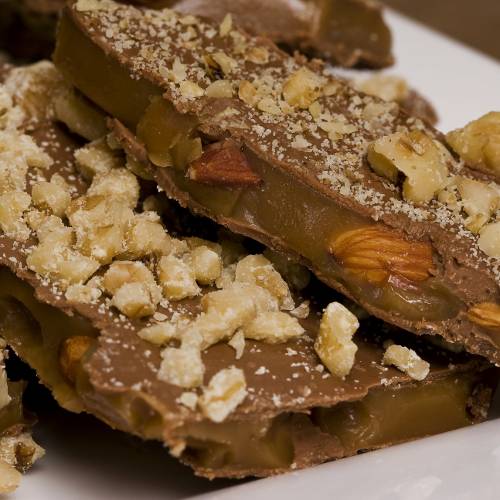 Hello All! Mary Lou Janson here dropping in to tell you about how one of Tampa's own is wowing the nation with their award winning toffee. It's a story about a sweet success for the locally-owned confectionery business known as Toffee to Go. Since 1998, the buttery, sweet, crumbly candies produced here, and distributed coast-to-coast, have been delighting a steadily growing fan base while building a national reputation for award-winning sweets.
Honors heaped upon this handmade toffee have earned it such designations as Best Chocolates, Best Candies, Best Desserts and even granted them favored status by the editors of Fancy Food Magazine and celebrity wedding and event planner Colin Cowie.
It was a family recipe for toffee that first inspired Lisa and Jim Schalk to try their hand at marketing small batches of homemade toffee, mainly to friends and business acquaintances. That initial success eventually prompted a move to a South Tampa commercial kitchen where they could better keep up with the product's growing year-round demand.
With peak sales for these sweets occurring around the Christmas holidays, the business has grown so much that it will soon relocate to a nearby street-front site that can better accommodate the thousands of orders filled from October through December and allow for more retail space to better showcase sweets to walk-in customers.
Later this fall, the business/store should be completely moved in at 3251 Bay-to-Bay Blvd. where the Schalks also plan to expand the brand.  They will keep a ready-to-eat, ready-to-go supply of Milk Chocolate Almond, Dark Chocolate Pecan and White Chocolate Macadamia Nut toffees available but customers can also expect to select from a toffee dessert sauce, a variety of brittles and possibly even pastries. Some sugar-free offerings may also be joining the mix in the months ahead.
Not sure where to start or what to buy? No problem. Free toffee samples are always available and if you find there is one flavor you just must enjoy on a regular basis, the toffees are free of preservatives but can be stored in a freezer for up to a year.
That's all for now, but be sure to stay tuned in for more updates on toffee related things to do in Tampa Bay!