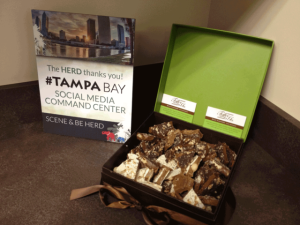 Well I think the title of this blog post pretty much says it all folks!
After our dinner delights, of course we needed to have a snack on hand, and thanks mucho the the fine folks over at Toffee to Go for supplying us with some of their delicious Toffee treats!
As you can see in the photo, these should keep us busy for the night, and we will certainly be in food and treat comas by the end of our shifts!
If you have ever wondered what this stuff tastes like, we can only tell you that its pure heaven! Each batch is made from scratch with farm fresh butter, premium chocolates, California almonds Georgia pecans and a small pint of awesomesauce! Okay maybe not that last ingredient, but it is pretty delicious. 
To learn more about Toffee to Go, visit their website or just give them a quick call at 813-831-6247, and stay tuned in for more updates from us at VisitTampaBay.com!
Toffee to Go can also serve all of your Tampa Bay meetings needs so if you are planning an event of any size and need delicious treats for your attendees, this is your place!