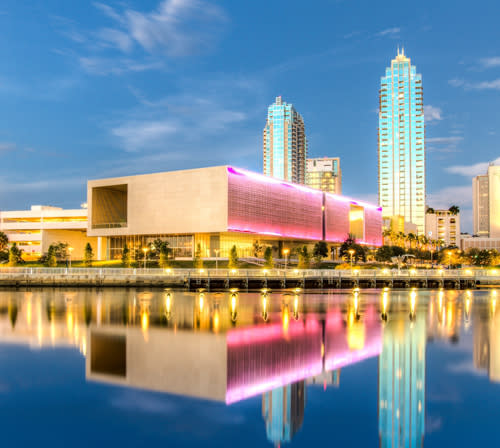 Tampa Museum of Art has joined Blue Star Museums, a collaboration among the National Endowment for the Arts, Blue Star Families, and the Department of Defense.
It's one of more than 2,000 museums across America to offer free admission to the nation's active duty military personnel including National Guard and Reserve and their families from Memorial Day through Labor Day 2015. The complete list of participating museums is available here. 
Museum Director Michael Tomor remarked, "The Tampa Museum of Art wishes to extend its heartfelt appreciation to our active military and their families by inviting them to experience the wonders of the visuals arts.  And we hope our troops will take advantage of our museum, located at Gasparilla Plaza, adjacent to the Glazer's Children Museum, and enjoy a day along the Tampa Riverwalk in downtown."
Tampa Museum of Art holds a collection of art ranging from Ancient Greek to Modern and Post-Modern. At night, the building becomes a work of art itself -- as thousands of lights hidden behind its perforated metal skin shimmer and glow with "Sky (Tampa)" by Leo Villareal.
The museum also hosts a variety of traveling exhibit. The current show, running through the end of this month, highlights the work of 20th Century artist Norman Rockwell.