Hey there folks! Jerm here with a special delicious post for you to talk about one of my new favorite treats!
Never really tried Toffee before last week, but on the recommendation of a few people I decided to head over to
Toffee to Go
the other day for the open house for the new location on Bay to Bay Blvd. Lately I have been making good food/treat decisions and this was one of the better ones I have made!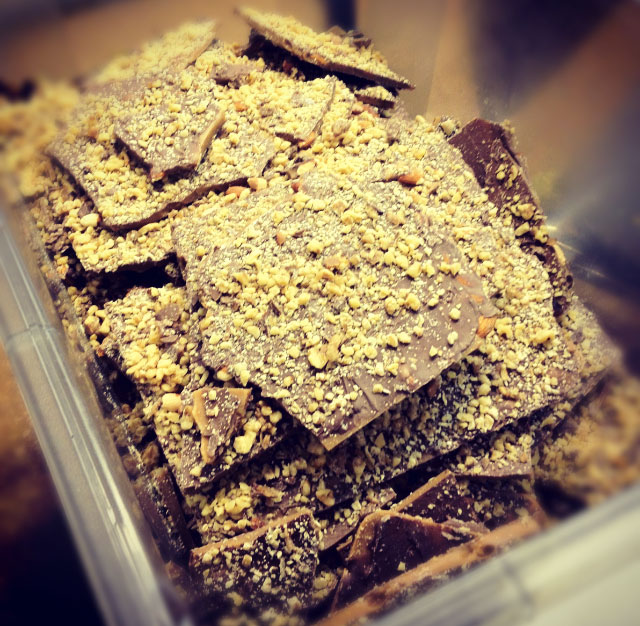 When I say this toffee is incredible, I mean its so good, you'll want to incorporate it into every part of your life. I even want a Toffee to Go scented air freshener in my car now because of this stuff! Toffee scented cologne, yup I'm all for it, with as good as this stuff is, I'd want to take it everywhere I went!
While at the open house, we got a first hand tour as to how this delicious toffee is made, and while I can't reveal any trade secrets as to the process, I do have some
photos
that will no doubt make your mouth water!
I can say that Toffee to Go products are made with only the finest ingredients and no added preservatives. Each batch is freshly made from scratch with farm fresh butter (lots of Butter), premium chocolates, California almonds and Georgia pecans.
Milk Chocolate Almond Toffee, Dark Chocolate Pecan Toffee, White Chocolate Macadamia Nut Toffee, and other assortments, you pretty much have your pick of delicious flavors for parties, corporate meetings, or anything else. It was a well attended event, and the toffee love was spread around by all in attendance!
As you can imagine, Tis the season for Toffee, and the gang over at Toffee to go is cranking out the Toffee left and right for the holidays! So be sure to get your holiday orders in by visiting the website at
www.toffeetogo.com
or calling 813-831-6247 asking for Lauren Moriarty and she'll take good care of you!
Well that's all for now folks, but stay tuned in for more updates on Toffee related things to do in Tampa Bay! Also, be sure to follow
Toffee to go on Facebook
!