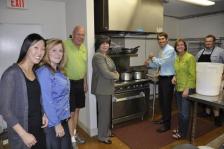 Hey everyone.  Travis back for Team Liger (go Ligers) with an update about one sweet trip you need to make.  We had the privilege of taking a tour of Toffee to Go today, and to say this place is awesome doesn't do it justice.  These people are making handmade toffee all day, and just the smell when you walk in the door is amazing...then you try the toffee. 
These guys are out of this world, and they are only to be outdone by the product they sell.  Plus, if you've ever gotten anything from Toffee To Go, you know that even the packaging is amazing.  And this fits for any occasion.  Birthdays...absolutely.  Anniversaries...perfect.  Just because...of course!  Any other reason...heck, you don't even need a reason, just stop in and pick some up! 
They just moved in to a new building in the South Tampa area, near Bay to Bay Boulevard and MacDill, so swing by if you're in the area.  And if you aren't, head over to the website or give them a call and order some.  Let me tell you, the phone didn't stop ringing the entire time we were there.  Their website is http://www.toffeetogo.com/. 
So, make sure you try these guys out...believe me, you'll enjoy it.  See you back here for more great things to do in Tampa Bay.