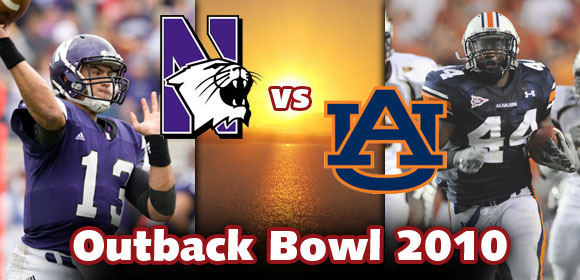 Hey everyone!  Travis here with some awesome Tampa Bay entertainment for the New Year!  Here's the scoop:
Outback Bowl officials extended invitations to Auburn University and the University of Northwestern to play in the 2010 Outback Bowl on New Year's Day in Tampa.  
The Tigers will return to the bowl for the first time in 14 years while this will be the Wildcats first appearance in the bowl.
The Tigers feature one of the top offenses in the SEC led by TB Ben Tate, a semi-finalist for the Doak Walker Award given to the nation's top running back, and DE Antonio Coleman, a First-Team All SEC selection in 2008. 
And the Wildcats boast one of the most successful offenses in the Big Ten, leading the league in First Downs and ranking second in Passing Offense and Third Down Conversions.   They are led by QB Mike Kafka, who completed a Big Ten best 65.7% of his passes, and All-Big Ten Safety Brad Phillips.
Here are some cool quotes from the Head Coaches -
"We are very excited about the opportunity to play in the Outback Bowl," said Auburn Head Coach Gene Chizik.  "This is a tremendous reward for our football players as well as our fans that have been so supportive of our program this season.  We want the Auburn fans to continue that great support by traveling to Tampa Bay to enjoy the many activities in the area and cheer on the Tigers on January 1."
"We're extremely proud of our football program, which for the second straight year, finished the season by playing its best football," says Northwestern Head Coach Pat Fitzgerald.  "We're proud to represent the Big Ten on New Year's Day at the Outback Bowl against Auburn, a tremendous opponent from the Southeastern Conference. I'm thrilled for our senior class, which is one of the winningest classes in program history. Our number one goal this season was to win our bowl game. Now the opportunity is in front of us and it is time to consistently prepare every day to achieve that goal."
The Outback Bowl is celebrating its 24th year and will kickoff at 11 A.M. on January 1st in Raymond James Stadium.  The game is telecast internationally on ESPN TV.  
If you're interested, tickets to the Outback Bowl are $70 each and are available at Ticketmaster outlets throughout Florida, via phone at (800) 745-3000 and online at www.Ticketmaster.com .  
If you're looking for more info, just head over to www.outbackbowl.com.  And like always, keep checking back for more great things to do in Tampa Bay and info about other Tampa Bay area events.