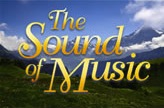 Hello there to all my lovers of arts and culture in Tampa Bay! Jerm here with yet another exciting event going on over at the
David A Straz Jr. Center for the Performing Arts
, as the
Sound of Music
will be in town this weekend only!!
This heartwarming musical with a charming cast of characters,about the inspiring story of the Trapp Family Singers will be playing this weekend only at the Straz Center! Residents of Tampa Bay and the surrounding areas will have the chance to experience this magnificent show!

And yes of course, guess who is giving away two pairs of tickets! You guessed it, its Jerm! Same rules as always in our giveaways, but in case your memory is mush, check out the rules below.
Here is a refresher on the way the giveaway will work. Instead of re-tweeting, just answer the question(s) on
Twitter
. Once you do that you will be entered in to win, as we will randomly draw two names.
For those of you playing on Twitter and who choose to re-tweet, it does indeed increase your chances of winning.
I draw 2 names from the first 10 correct answers, so make sure you get the correct answer to play! Around 6pm, I will announce the winners!
Let's hop right into it! All I need you to do is answer three questions:
The Sound of Music was the final musical written by Rodgers and Hammerstein? True or False

The Real Von Trapp actually fled to this country, not Switzerland as the play depicts?
The Sound of Music opened on Broadway at the Lunt-Fontanne Theatre on November 16, 1959, and closed on June 15, 1963 after how many performances?
That's all for now, but stay tuned later this afternoon as I announce the winner.
Stay tuned in for more updates on Tampa Bay area events from Jerm and the rest of the crew!