Greetings Tampa.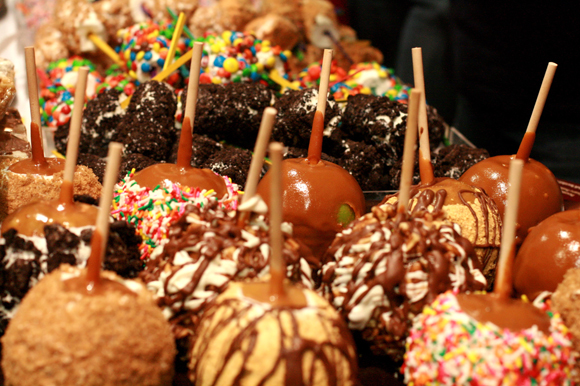 Lisa here to give you some details on
MOSI's Festival of Chocolate
on January 15, 16 and 17.
I've decided to make this a two-part blog, so this is only half of the velvety goodness. I am going to give you some background information on some of the Chocolatier's who will be in attendance at the Festival.
The first one is Joey Biscotti and the owner is Steven Wright. They are located in Ybor City at the Saturday Market, Centennial Park, corner of 19th street and 8th avenue. They describe their business as "Small-batch dessert bakers, specializing in high quality hand made baked goods, using only the finest, freshest ingredients." And the two things you have to try are the Bittersweet Mascarpone Cheesecake and the Brooklyn Blackout cupcakes.
Next we have Picture This Candy Company owned by Jennifer Patterson and they are an Internet Business. What makes them unique is the ability to customize the products with any picture, logo or message and it's all completely edible.
La Creperia owned by Chef Dinos is located in Ybor also, and they are geared toward making crepe's fit a healthy lifestyle. "Chef Dinos has perfected the art of crepe making." And you should try the Nutella, Banana and Strawberry crepe.
And the last vendor today is Bellafia Chocolate Boutique owned by Mrs. Deborah L. Williams. They are located in Riverview. What inspired her business was being a former Jenny Craig Consultant. She said everyone cheated with extra chocolates, so what a concept open a chocolate boutique!
Everyone on this list comes from somewhere different, and everything they do sounds amazing. So come on out to this awesome event and enjoy some chocolate!
That's all for today, but check back for more Tampa Florida News, and other Tampa Bay Area Events!