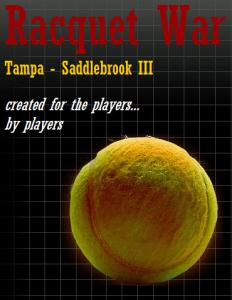 Hey there Tampa Bay Sports fans!
The unique, Racquet War Tennis Tournament is returning to Tampa September 7-9th for the third consecutive year.  In the past, the tournament was just the normal event for adults in the Saddlebrook Resort.
For $55.00, each player competes in a minimum of four matches over three days.  It's ideal not only for the really serious, competitive players but also for those out to have more of a social tennis tournament. 

Racquet War was created by Robin and Oakley in 2009 as a company designed to organize and run special events and competitive tennis for adults. 
The company's goal has become to coordinate high quality competition with well organized events while always striving to exceed the expectations of all of the participants.  "We focus very heavily on getting people on the court, if not early, on time for their matches. 
Be sure to check this great event, and stay tuned in for more sports related updates in Tampa Bay!