Hi Tampa Bay, Alex back to let you know what is happening in Ybor City this weekend.
Friday & Saturday- November 18 & 19, 2011
Cosmopolitan: A Square One Creative Event
Art, music, dance and fashion extravaganza that will feature 75 local artists along with live performances from over 40 musicians, dancers, models and performers. The Art Walk preview on Friday will feature more than 75 local artists at The RITZ Ybor and multiple Ybor City venues.
Friday, Art Walk Preview: 7 - 11 p.m. | Saturday: 7 p.m. - 12 a.m. | The RITZ Ybor
www.SquareOneFlorida.com
Friday- November 18, 2011
Fire It Up!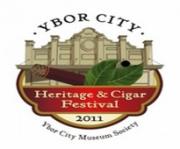 The Ybor City Museum Society's kick-off party and smoker in celebration of the annual Ybor City Heritage and Cigar Festival.
6:30 - 10 p.m. | Ybor City Museum Garden | www.OurSmokinEvents.com
Saturday- November 19, 2011
Annual Ybor City Heritage and Cigar Festival
Heritage and cigar enthusiasts who will enjoy a day of activities celebrating the rich cultural heritage of Ybor City and the cigar industry with traditional foods, sports zone, kid's zone, antique car display, beer and wine garden, and an outdoor cigar exhibit. The Cigars for Soldiers collection of cigars for troops serving overseas culminates during the Festival. In 2010, nearly 2,000 cigars were sent to U.S. troops.
10 a.m. - 5 p.m. | Centennial Park, 8th Ave and 19th St | www.cigarheritagefestival.com

Don't miss out on all of the fun things happening in Ybor this weekend.
Enjoy these events and check back with us for more information on things to do in Tampa Bay.