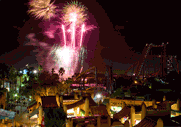 Hey Tampa Bay.. Alex here with some news on an upcoming event happening at one of our local Tampa Florida attractions.
Along with many of Busch Gardens summer night events; they are having a firework show on July 3 & 4, 2010. The Firework Finale will fill the skies over Busch Gardens with a beautiful firework arrangement at around 9:30 p.m. Prime viewing spots include Gwazi Park and the Timbuktu area.
If you haven't already, make sure you visit Busch Gardens while it is open for extended hours. Busch Gardens is staying open late until August 15, 2010 and providing you with thrills, animal encounters, wilder rides and world- class entertainment.
When you visit don't forget to take a spin on one of the parks many roller-coasters and swing by to catch Kintex  before you head home.
Busch Gardens has amped up its excitement on its rides to make every night more thrilling. They have added more life with music, lights and surprises that will make your experience more awesome.
Busch Gardens has also added a new nighttime show, Kintex. It provides the audience with a colorful acrobatic show every evening at 9p.m. With live musicians, dancers and pyrotechnics, this 30-minute contemporary rock experience is the WOW way to end every night. You can also be part of the Kintex VIP Experience. You can enjoy the show in a fabulous reception style atmosphere for an additional price. Tickets: Adults start at $21.95 per person and children (ages 3-9) start at $9.95.
For more information on events happening at Busch Gardens this summer, check out
http://www.buschgardens.com/
Make sure you check back next week for a chance to win tickets to Busch Gardens Tampa Bay.