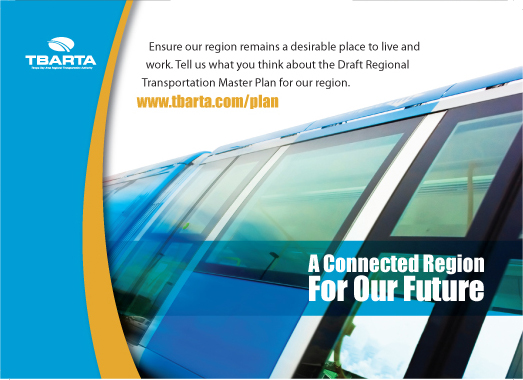 Hey gang!  Travis back with some...well...kind of Tampa Tourism information for you.  We got some news from TBARTA (The Tampa Bay Regional Transportation Authority), and we just had to share it with you.  Why, you ask?  Well, because they want to know what you think!  Here's what they sent -

TBARTA requests your participation to help shape the future of regional transportation throughout the seven-county region that includes Citrus, Hernando, Hillsborough, Manatee, Pasco, Pinellas, and Sarasota counties.

The TBARTA Board has recently released its Master Plan for public comment prior to the intended adoption of the Master Plan, which could happen as early as the Agency's next Board meeting on May 22 and is legislatively mandated to occur no later than July 2009.

To ensure we are creating the best plan possible, your thoughts and insights about the plan are critical. Please click on this link, http://www.tbarta.com/content/complete-master-plan, to view the Master Plan online and respond to the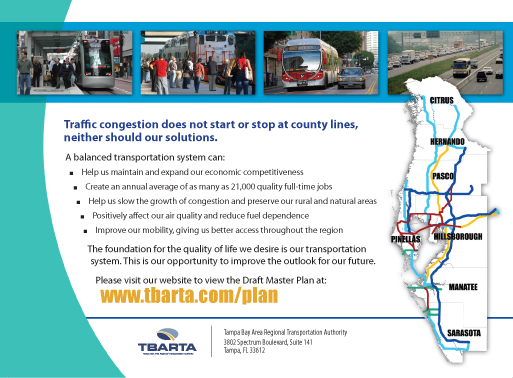 plan in its current form. All comments received by May 15 will be used to shape the final Master Plan prior to its adoption.

Please note: On May 11 at 6 p.m., a Public Hearing on the Regional Transportation Master Plan will be held. The location is the Dr. Blaise F. Alfano Conference Center at 11606 N. McKinley Drive, Tampa. We welcome your attendance. Thank you for your time and willingness to participate in TBARTA's planning process for regional transportation.

Now, I don't know about you all, but when someone asks for my opinion (which isn't all that often, even though I give it often), I am definitely going to give it.  So, make sure you do the same, because this is important stuff. 

Ok, now that we've said that, I need to say that in the coming days, we are going to be putting a bunch of great information about National Tourism Week, including the luncheon, rally day, Hospitality Olympics, etc.  So, make sure you keep checking back for information about those, and other great things to do in Tampa Bay.  Remember, we'll always have the best Tampa Bay area events for you.