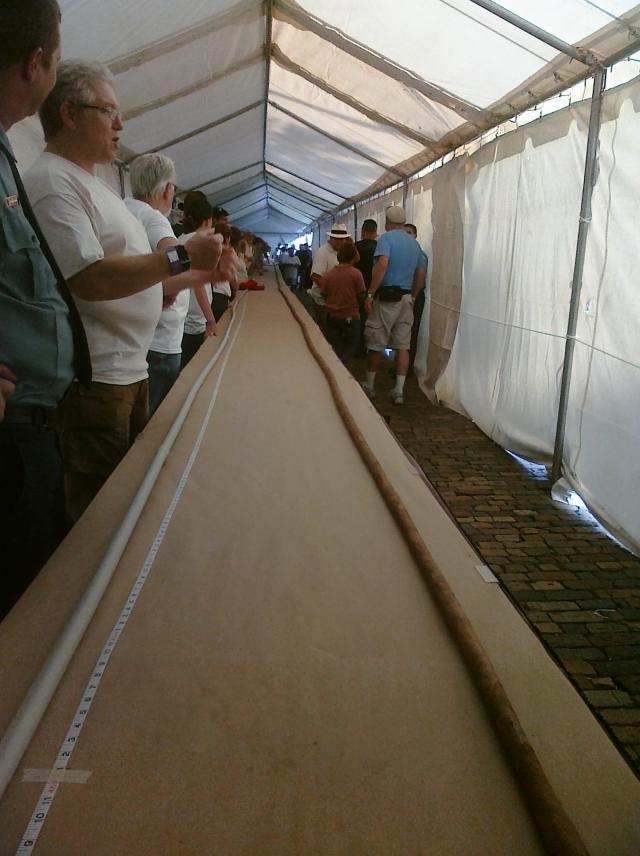 Hey everyone!  I don't know if you've heard, but Tampa has the World's longest Cigar.  Ok, I know this isn't the typical Tampa tourism update that we normally bring you.  And I know this isn't some great Tampa Bay entertainment option...but it's pretty darn cool! 
Here's the release the Guiness Book of World Record put out just before the event in Ybor City on Nov. 21! 
On Saturday, November 21, 10 a.m. to 5 p.m., the Ybor City Museum Society will host the Verizon Cigar Heritage Festival during which Wallace and Margarita Reyes will attempt to break the current Guinness World Records record by building a cigar that spans nearly a city block. The Reyes and their team of 48 volunteers will construct a 180+ foot, 64 ring gauge cigar within a 10-hour period.
The Verizon Cigar Heritage Festival is a family-friendly event that features traditional foods, cultural entertainment, kid zone, game zone with NCAA football, a beer and wine garden, some of the world's finest cigars, and live broadcasts by Cigar Dave, Jack Harris, Ted Webb and Jeff Fisher. Attendees will may also take Ybor City Museum State Park tours, shop at the Ybor City Saturday Market and Centennial Park 19th Street Shops or enjoy many other aspects of the festival.
The Reyes have been constructing the world's longest cigar in eighteen 10-foot sections at the Museum Store Cigar Gallery, 1820 N. 9th Avenue, Tampa, FL 33605. Final assembly of the sections to break the current Guinness World Records record will take place at the Verizon Cigar Heritage Festival. This is the first longest cigar record attempt worldwide during which a Guinness World Records Adjudicator will be present to immediately certify the record, expected to be attained at sometime between 3:00 and 3:45 p.m.  An announcement to the local, national and international press will be made shortly thereafter by Guinness World Records.
Wallace and Margarita Reyes, co-owners of Gonzalez Habano Cigar Co., broke their first world record for the longest cigar on November 18, 2006 during that year's Cigar Heritage Festival. The 101-foot, 64 ring gauge cigar was finished in front of hundreds of people.
The record has since been broken. The current holder of the record is Jose Castelar in Havana, Cuba who constructed a cigar of 148 feet and 11 inches on May 7, 2008. There is friendly competition between the Tampa and Cuba cigar makers, and this most recent world record attempt will be a lively and unique event.
And they did it!!!!  Here's the link to view the certificate!  http://worldslongestcigar.com/certificate.2009.html
So, they will get a huge round of applause from us!!!!
Ok, now that I've filled everyone in, we can go about or normal day (whatever that means).  Keep checking back because we will bring you more great things to do in Tampa Bay, and cool Tampa Bay area events.