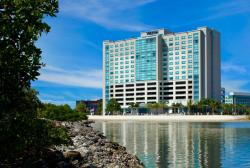 The Westin Tampa Bay was recently named the #1 Hotel in Tampa Bay by  U.S. News, as they just released their 2013 Best Hotels listing.
For the second year in a row The Westin Tampa Bay has been the recipient of this honor and it proves the theory that excellence is a habit!
The doors opened back January of 2009, and this amazing new 244-room, AAA 4 Diamond award winning property hasn't looked back since, with a variety of updates to enhance its already amazing location located located on Rocky Point Island.
With close proximity to Tampa International Airport, nearby shopping & entertainment and easy access to downtown Tampa, you can see why the Westin Tampa Bay is ranked consistently amongst Tampa Bay's accommodation elite.
The Westin Tampa Bay is also home to one of the area's most picturesque waterfront dining locations. At Aqua Restaurant Bar & Lounge, experience an environment designed to entertain your every sense, highlighted by a water encased walk-in wine cellar and a state of the art open kitchen.
Whether you are looking to host a meeting/event, enjoy a weekend getaway with a loved one, or sample fine culinary delights, be sure to check out the Westin Tampa Bay!