Hey Tampa Bay soccer fans, Alex here with some information that might interest you! Today President Barack Obama, Vice President Joe Biden and former President Bill Clinton welcome the U.S men's soccer team to the White House. The team met with the trio of leaders for about five minutes at the north portal of the White House.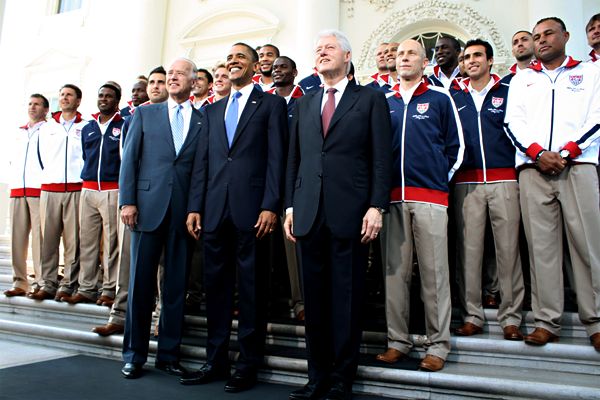 Obama addressed the team briefly, wishing the group good luck and commending members of the team on what they've already achieved. "We're going to be proud of what you do in South Africa," he said. "And you will have somebody in the Oval Office watching ESPN to make sure things are going OK."

Amongst the brief conversation carried on between the three leaders and the US soccer team fashion seemed to be one of the hot topics.

The team was getting compliments left and right for being so well dressed. Clinton couldn't stop commenting on the team's matching brown dress shoes and Biden then told the team he wanted to make a bet that the first thing Obama would notice when he walked up were the shoes.  I guess in addition to being world class athletes, they are world class fashionistas as well!

Check back often for more updates on USA soccer and of course fashion updates.
Don't forget to swing by the Go USA Bid website to support the USA's 2018 FIFA World Cup Bid along with the 2022 World Cup Bid, by visiting the Go USA Bid website.