Hello there volleyball fans, Josh Jones here with an important update. The inaugural "Tampa Twice" volleyball tournament is taking place this weekend, and is shaping up to be an event you can't afford to miss! The tournament will feature three AVCA ranked teams, #3
Washington Huskies
, #4
Florida Gators
and #9
Minnesota Golden Gophers
, as well as the currently undefeated
USF Bulls
.  The games will be played at the USF Sun Dome this Friday, September 11 and Saturday, September 12.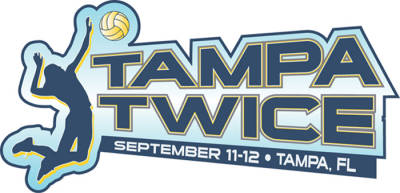 On Friday night, the tournament starts off at 6 p.m. with Washington versus Minnesota. Washington has started off the season on fire, sweeping its first six opponents and winning both of its first two tournaments to give them a perfect 6-0 record.
However, the Huskies will have their hands full with a Golden Gopher team that is coming off a perfect 5-0 performance at the Diet Coke Classic. The Golden Gopher's are currently 2-1 against ranked teams this season and are currently 6-1 overall.
At 8 p.m. on Friday night, in-state foes Florida and USF face-off for the 31st time. Both teams are currently undefeated this season at 5-0. The teams last played each other in 2006 when Florida swept USF 3-0. USF is looking to its heavy senior-laden squad to lead them past #4 Florida. Florida is coming off a stellar winning performance at the 31st Annual Community Bankers Classic.   
"Tampa Twice" wraps up on Saturday starting at 6 p.m. with #3 Washington taking on #4 Florida, followed by #9 Minnesota against USF at 8 p.m. All four teams are looking for this non-conference, regular season tournament title to help them gain momentum for the remainder of the season, and bring them back to Tampa Bay for the 2009 NCAA Division I Women's Volleyball Championship in December at the St. Pete Times Forum.
To purchase tickets to "Tampa Twice" call 1-800-GoBulls or log on to
www.GoUSFBulls.com
.    
For 2009 NCAA Women's Volleyball Championship ticket information
click here
!
Stay tuned for more Tampa Bay Sports updates from your Tampa Bay team!