Hey sports fans, Josh Jones here with an
ACC Football Championship
and Tampa Bay Sports update. The final piece of the puzzle was put in place this weekend when the Clemson Tigers clinched the Atlantic Division with their 34-21 win over the Virginia Cavaliers.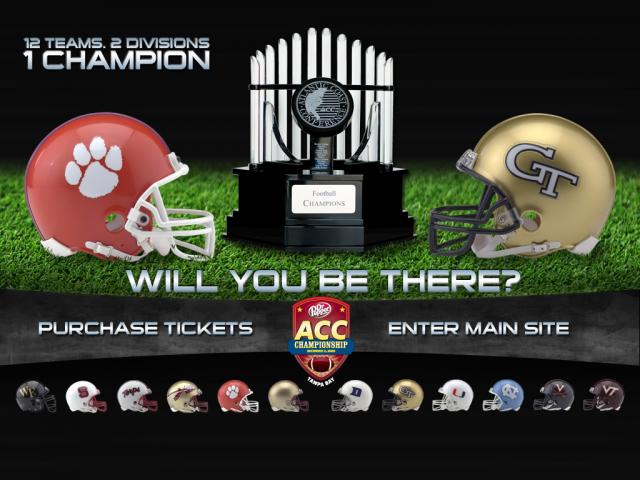 On December 5, Clemson will make the trip to Tampa Bay to face off against the winners of the Coastal Division, the George Tech Yellow Jackets. This will be the second time these two teams have met this season.
Earlier this year, these two teams provided an exciting match-up that ended with George Tech edging past Clemson 30-27. Both teams are currently ranked in the BCS standings with George Tech (10-1) ranked seventh and Clemson (8-3) ranked eighteen.
Clemson will come to Tampa for their first appearance in the ACC Championship game. The last time the Tigers were ACC champs was in 1991, when they won the title during the regular season. The Tigers feature a first-year head coach and offensive coordinator who have proven to be true leaders for a team that features a redshirted quarterback. For the seniors on this year's team, making it to the Championship provides a sign of relief after falling short the last three years. Don't let this fool you though, the Tigers will come to Tampa focused and ready to compete for the ACC title.
The Yellow Jackets come to Tampa on an eight game winning streak. The last time Georgia Tech was ACC champs was in 1998 when they shared the conference title. The team's last outright conference title win was in 1990, the same year they went on to win the national championship. George Tech features a high powered offense that is led by junior quarterback Josh Nesbitt, who threw for 190 yards and scored two touchdowns on just 10 passing attempts in the team's last win over Duke on November 14.
These two athletic teams are sure to provide for a thrilling championship game! Don't miss you chance to witness this incredible match-up by ordering tickets at
www.theroadtotampabay.com
or by tuning in to ESPN on December 5 at 8pm!
Until next time, this is Josh Jones signing out! Stay tuned for more things to do in Tampa Bay updates!