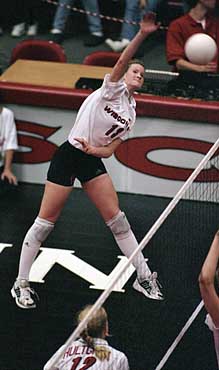 Ok, so it hasn't been heard around the world yet, but give it time.  Hey everyone, it's Travis again with an update about some Tampa Bay entertainment that you really need to see.  The 2009 NCAA Division I Women's Volleyball Championship. 

That's right, tickets for this event went on sale, so now's your chance to get them before they're gone!  For the first time in the history of the tournament, the NCAA Women's Volleyball Championship is headed to the Sunshine State on December 17 and 19, 2009 at the St. Pete Times Forum (you know, the home of the Tampa Bay Lightning).

Last year the Penn State Nittany Lions became the fourth team in NCAA Division I women's volleyball history to finish a season undefeated, as the top-ranked Nittany Lions successfully defended their 2007 national title with a 3-0 sweep of second-ranked Stanford in the 2008 NCAA final at the Qwest Center in Omaha, Neb.

The total attendance for the finals site of the 2008 championships was 31,729, the second-highest for the NCAA volleyball championships.  Included in the total was a semifinal crowd of 17,430, the highest attendance to watch an NCAA Championships match, and a championship match attendance of 14,299, the second-highest championship match attendance in NCAA Division I Tournament history. 

Fans can purchase all session tickets to this year's championships for $60 by calling 813-301-2500 or by logging on to www.sptimesforum.com.

You can bet your kneepads that you'll see me out there.  So go get your tickets now! 

And keep coming back as we bring you more information about this and other great things to do in Tampa Bay!