Who's ready to get into the Christmas spirit? We are and that's why we're on our way to Wild Wonderland at
Tampa's Lowry Park Zoo
. Hi there, I'm one of six of Santa's reindeer. We've been flying around the world the past couple weeks, having fun visiting our animal friends before the big night.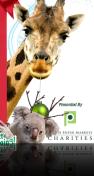 We've been to India and hung out with an Indian rhino, and down under in Australia visiting a fluffy koala, and just yesterday we were hanging out at the beach with some south African penguins. You can see all of our stops from our journey and the postcards we've been sending to
Santa here
.
It's been quite a trip, but we're really looking forward to meeting all of you at Tampa's Lowry Park Zoo for Winter Wonderland! There will be a million twinkling light, glimmering holiday displays, and of course, our favorite guy – Santa!
Come meet us and be dazzled by the Zoo wide displays at the
Zoo's Wild Wonderland
holiday celebration that OPENS TONIGHT!
Winter Wonderland at Tampa's Lowry Park Zoo
December 5, 10-13, 17-23 & 26-30
6:00pm – 9:00pm
Adult- $13, Child- $11