Good afternoon everyone, Christina here with the latest from Tampa Bay.
After being swooned and swayed by the electric voices of Adam Pascal and Anthony Rapp at the Broadway production of 'Rent' last evening, I have only words such as - Spectacular. Phenomenal. Breathtaking.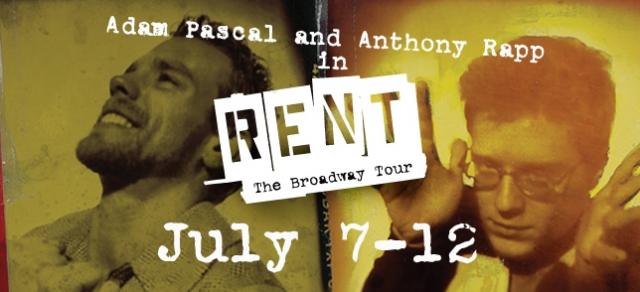 Wow, not only did the cast of Rent blow out the theater last night, but I'm positive the reputation of the arts and culture in Tampa Bay just ricochet through the roof. Rent is a painful yet realistic depiction of life, love, loss and most importantly family of the poor, the sick and stereotypically the 'different'.
Apart from the near-natural brilliance of Pascal and Rapp, who play Roger and Mark, I must say the rest of the cast was at par with the two original stars of the show.
Lexi Lawson, who plays the character of Mimi was absolutely and inevitably smoking last night. Let's not forget the powerful voice either, she really did bring something to the stage... it's called Magic. When she performed, all eyes were definitely on her. 
Karmine Alers, is a must mention as she is understudy for the roles of Mimi and Maureen. Last night she was apart of the chorus and there was this one solo she sang which just had the audience's 'ooohhs' 'ahhhs' and 'yeeaah!!' reverberating throughout the song. I thought to myself, if everyone felt the tiny little hairs on the back of their neck stand up. Lord knows, mine were.
The character of Angel played by Justin Johnston was beyond entertaining to say the least. Johnston brought a magnitude of energy and rhythm to the show, that never ceased to move everyone. Especially the four inch platform shoes he wore continuously in every scene. He entails the substance every actor hopes to achieve in their career.
The amazing atmosphere of New York City in the 90s created in 'Rent' not only invites you to in but leaves you hungry for more. Addiction, poverty and disease is just the few obstacles these young people are faced with, but it is the spirit in which they rise to the darkness that is truly captivating. I never experienced NYC in the 90s and through my fresh eyes the cast taught me about the culture and the time. They made me laugh, sing and even cry. 
Hats off to the cast and crew of Rent, thank you for enriching my love of the arts that much more.
Everyone should see this show, it would be a shame if you didn't. It's playing till 12th of July. For tickets or more information go to,
Tampa Bay Performing Arts Center
That's all for now folks. Stay tuned for more things to do in Tampa Bay!
Peace.